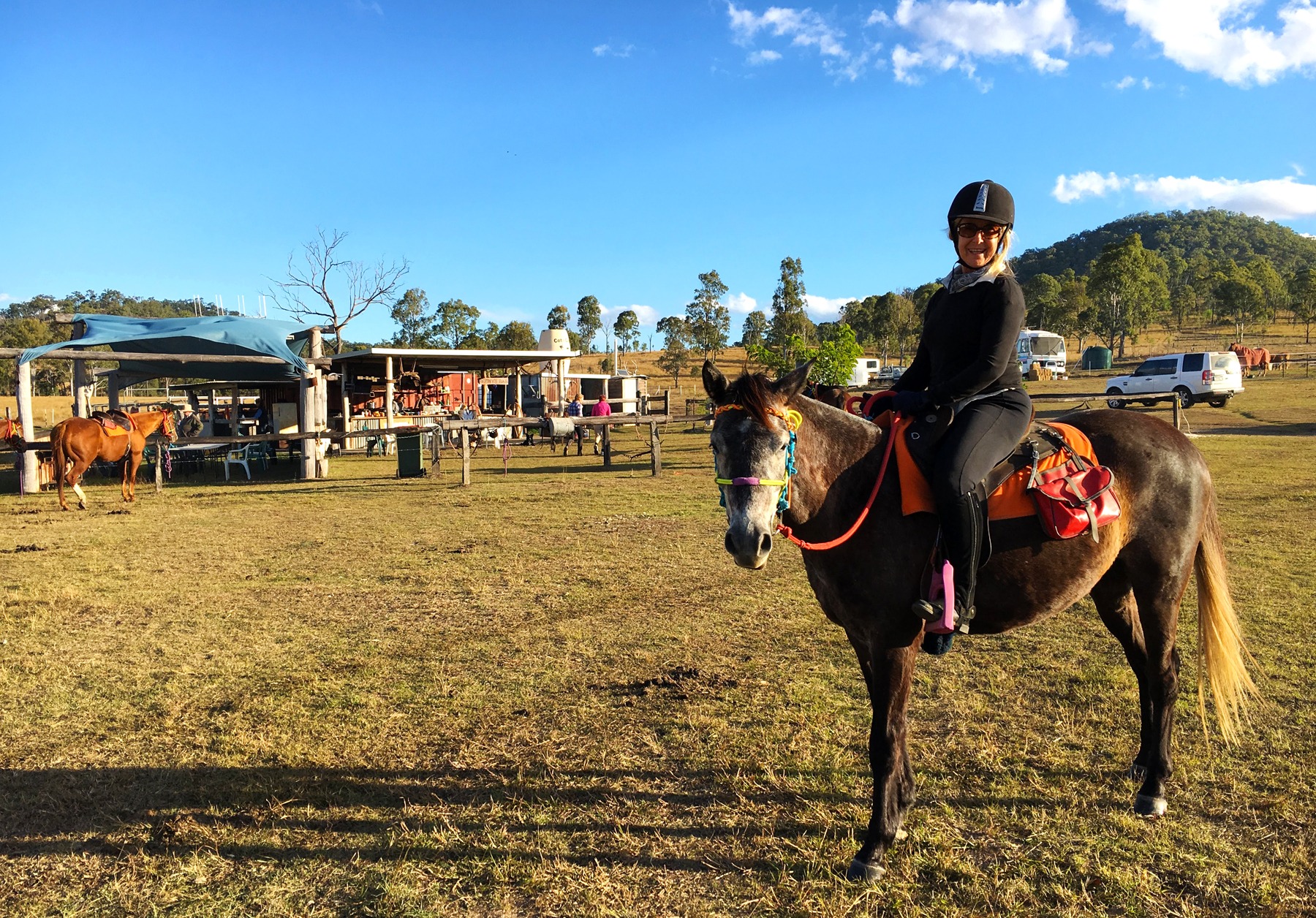 The adverts were amazing: mustering cattle, campdrafting, (suitable for all riding levels, even beginners – that's still me!) stunning views –  Southern Queensland, mid winter, escape from the Melbourne cold, improve my riding skills – who could refuse? So before I knew it, I was a paid up 'member' of the June intake of campdrafting novices thanks to Globetrotting.
I took a flight into Queensland – for those who are wondering where I was going (as was I), the attached map will give a rough idea. We all met at Maroochydore Airport; the name Maroochydore is apparently derived from  'murukutchi-dha' in the language of the Brisbane River Aboriginal people, and it literally means 'the place of the red bills' (i.e. the black swans).
There were 11 of us, mostly in groups, although John was a brave solitary traveller – actually doubly brave as he was also the only male. He became our Knight in Shining Armour on his white steed. I knew one guest, Margaret, from our ride in Margaret River last year. Introductions duly made, we left in a bus for Gympie. (The name probably derived from an aboriginal word for the local stinging shrub).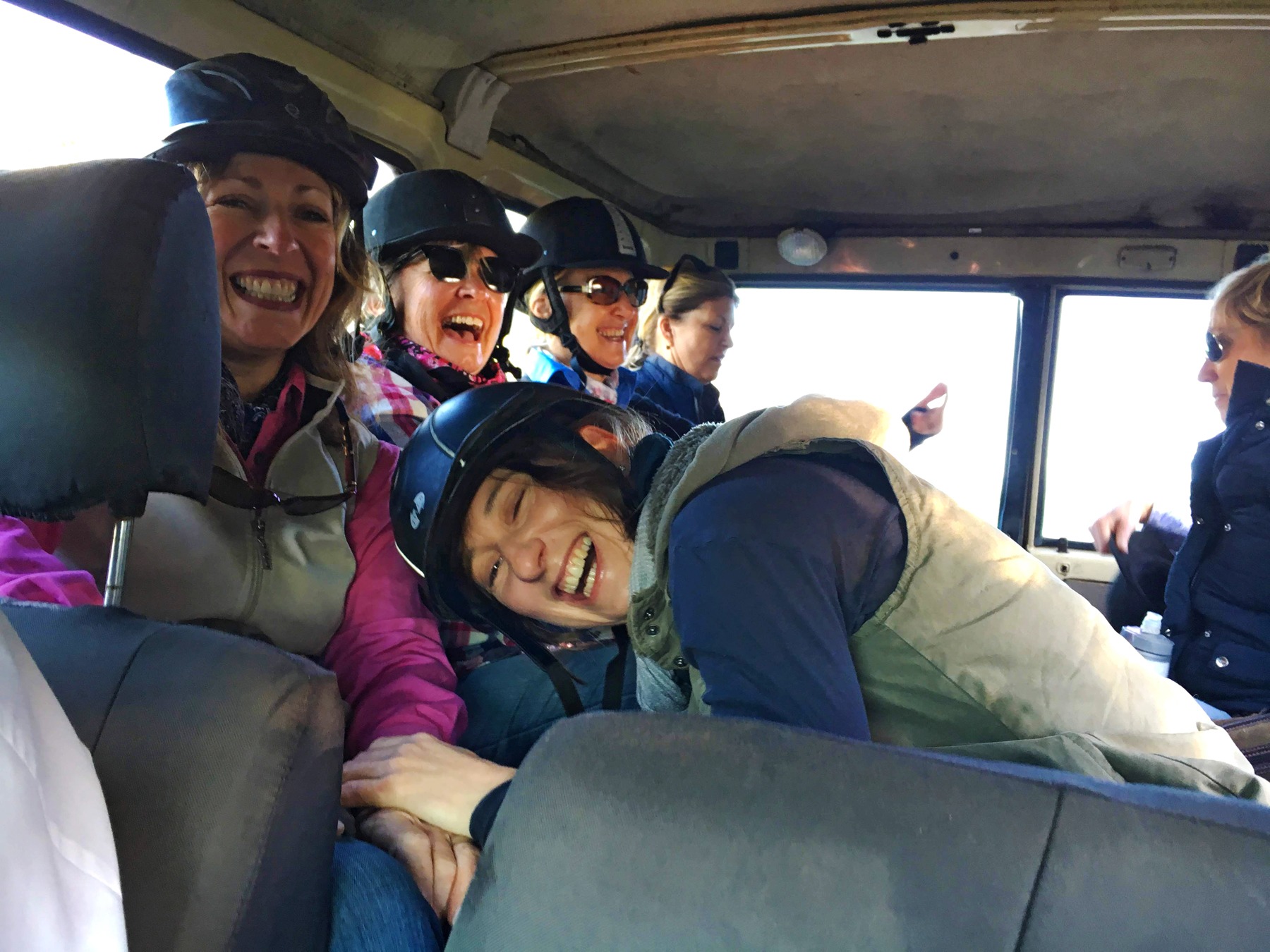 Two hours on the bus, including a most important bottle shop stop,  saw us arrive at the base of Mount Gomboorian, our home for the next 3 days. After a brief introduction to our horses, how they were trained, which saddles we would use etc,  we were loaded into vehicles for the 'ascent' up the Mountain. I think these two photos sum up the exhilaration of the angle of ascent! Some of us felt the need for head protection as we bumped and bounced and tried to hang on! Words again do not do justice to the views – across to Fraser Island, Noosa, and back inland 'forever'.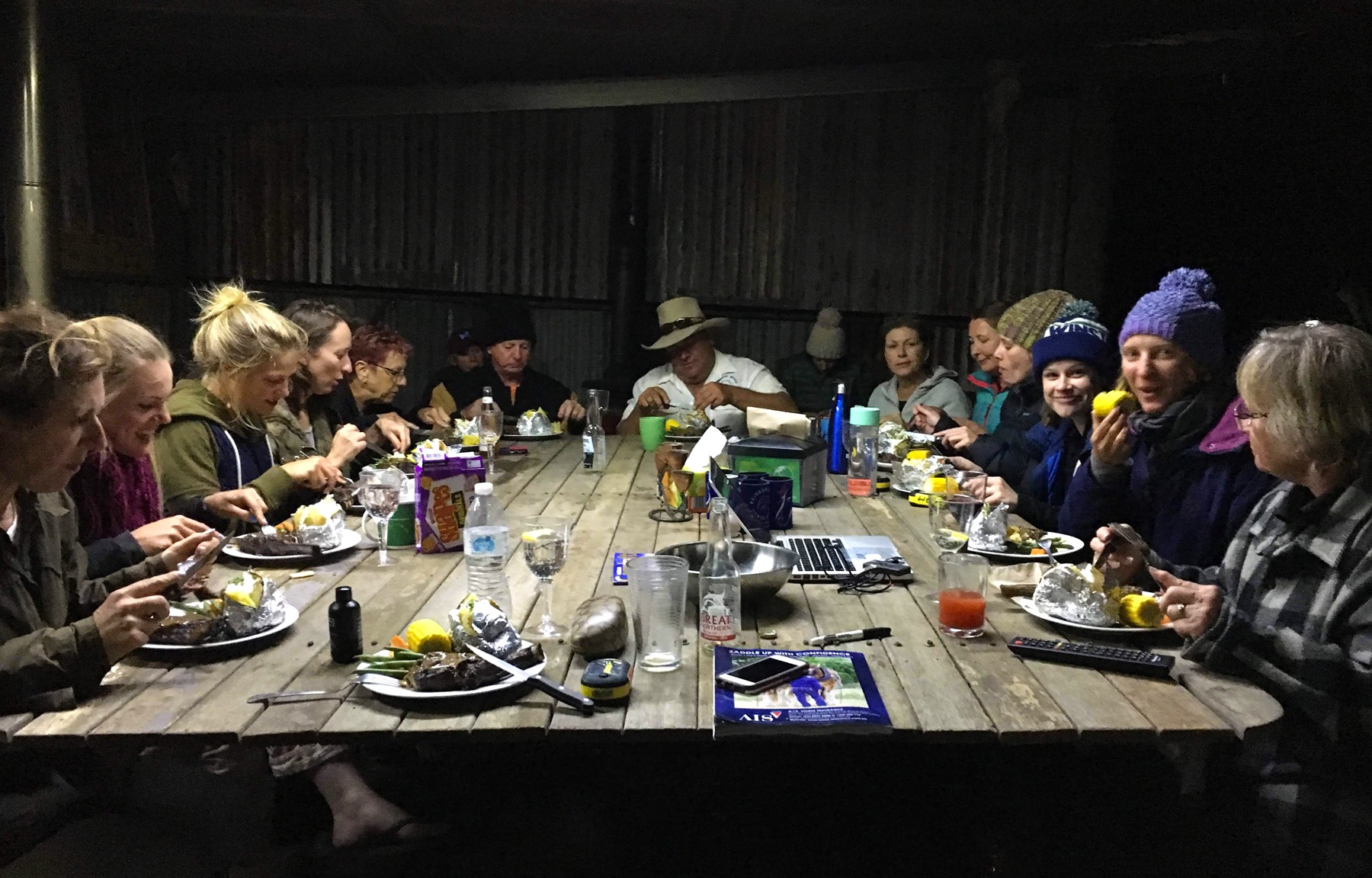 Our tents were more than comfortable and the food always appetising – Sean, our trusty chef, excelled at every meal. But it was our horses that really sold us. I had T Rex – small (hence the name) and young with a distinctly 'mulish' look about him. Be that as it may, for the first time I could reach the saddle of my horse without standing on a huge log or rock or mounting block. He was not, at least to a novice eye (i.e. mine) a good looking horse and I was asked more than once if I was on a donkey! That question, though, was always from a 'non horsey person'.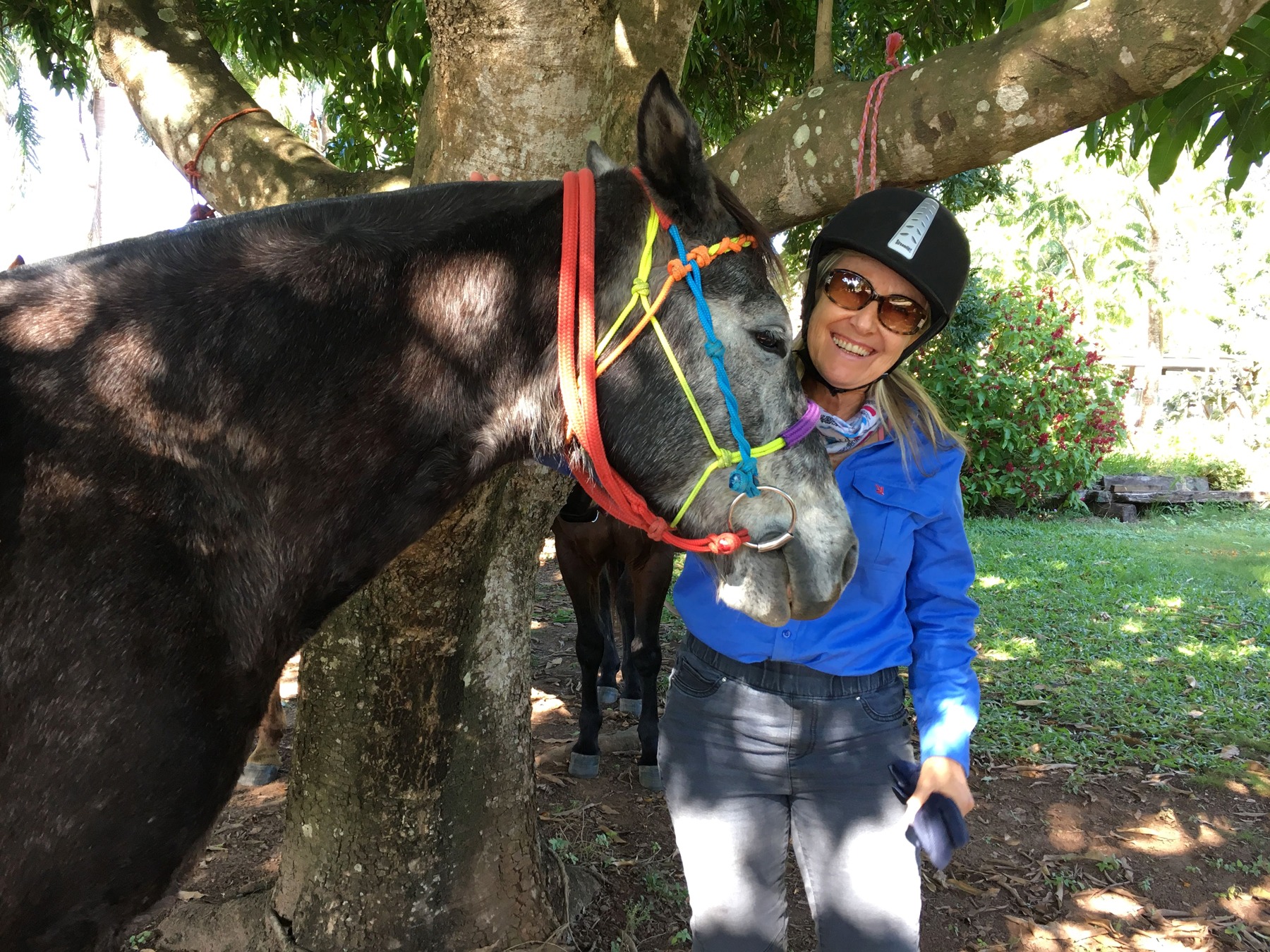 Never, however, be fooled by looks – I am sure your mother told you that once. This little hang dog mule of mine had the spunk of a champion campdraft horse and when you asked him to go, he could move like a bullet. So the donkey statement never came from anyone who saw him actually move!
Our first day was spent out riding through the countryside, getting to know our horses, their quirks, their likes and dislikes (more about that later). T Rex likes eating and since his face was level with the bush most of the time, he spent a great deal of time chewing and I spent a great deal of time stopping him. I did, in the end, convince  him to stop – win for me.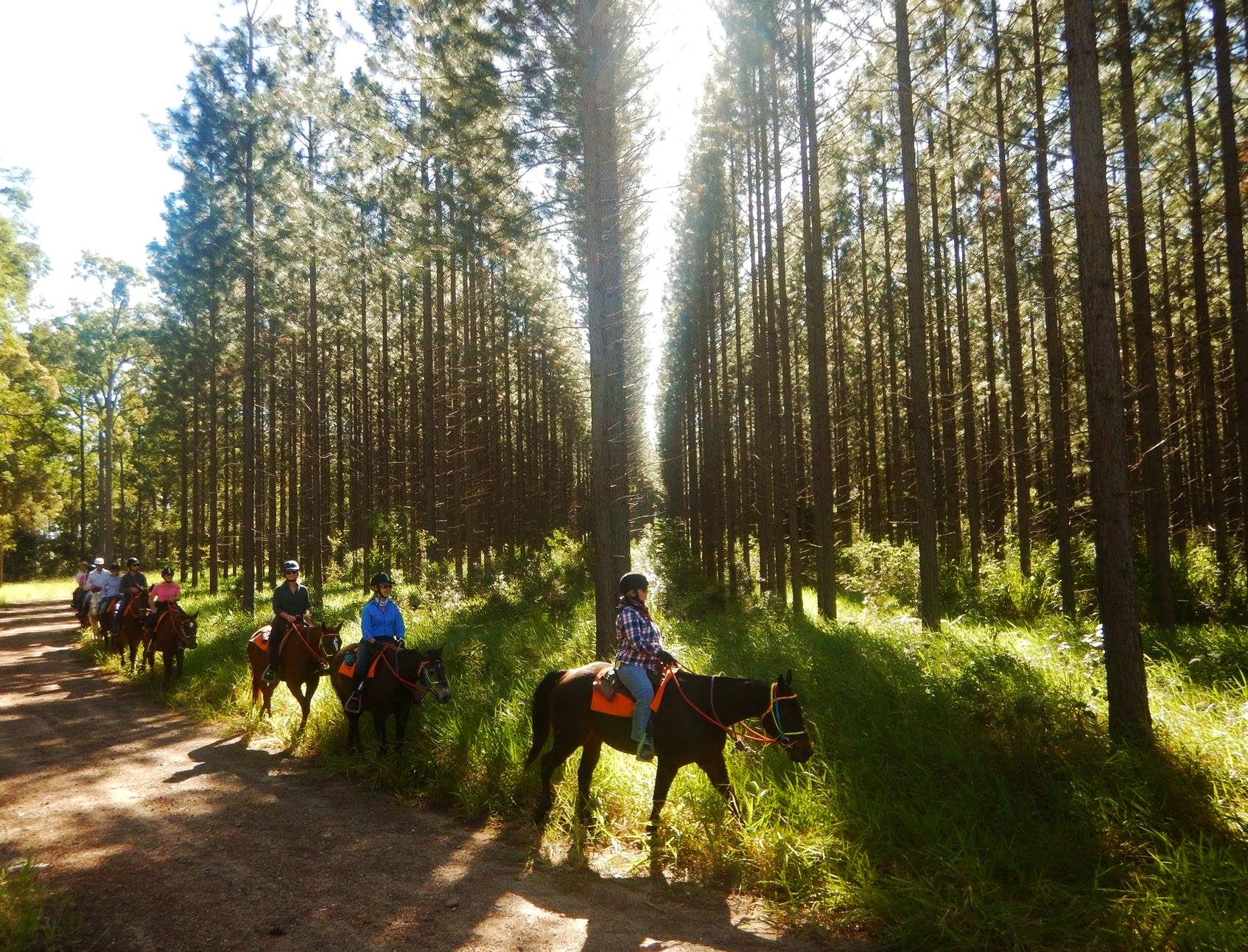 By now you will know that I am curious about how places get their names and we rode through some Weethefekaarwe Bush. This Weethefeekaarwe Bush consisted of grass and scrub taller than us on horseback, so that we could hear one another but not always see one another. The name rolled off Andrew's tongue with such ease and emphasis on odd syllabi that it took me a while to work out – he had no idea where we were or what it was called – I will leave you to work out the name for yourself!
Weethefekaarwe Bush – none of us knew where the #$% we were!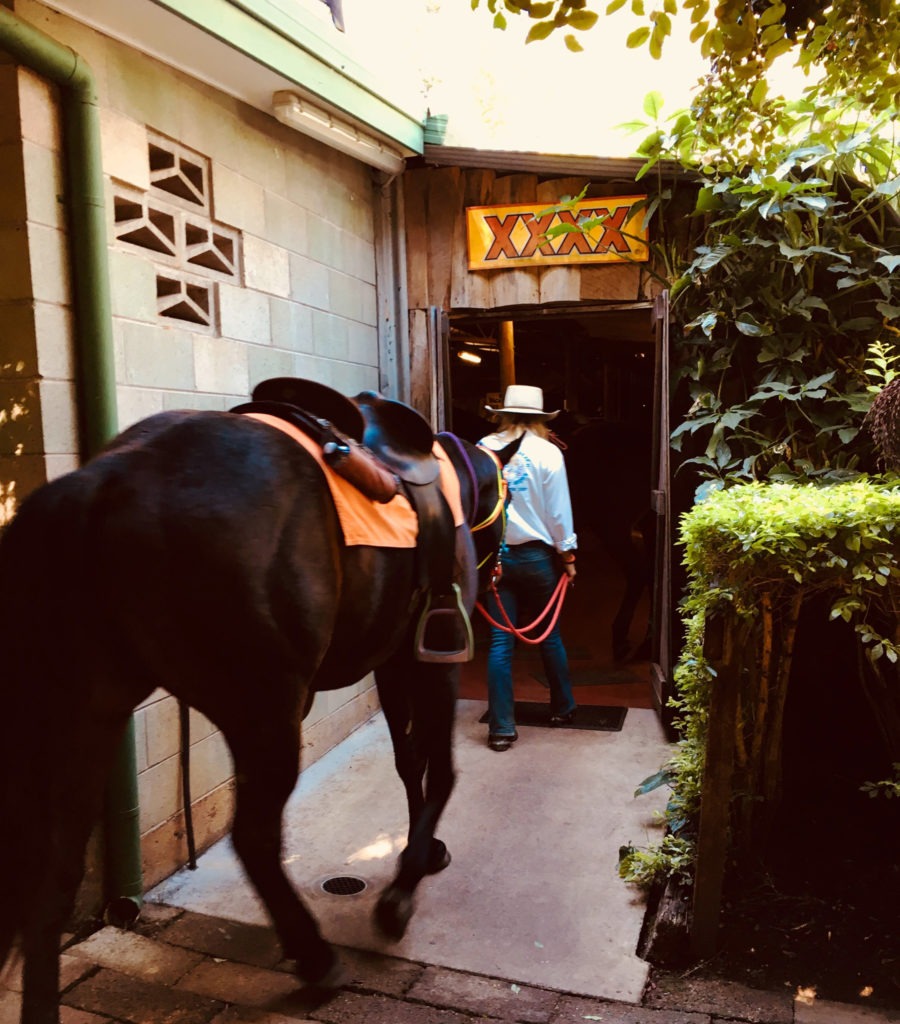 Lunch at the Silky Oak was a treat, made special by a drink in the pub like nowhere else in the world! After drinks and food we collected our transport parked outside and waiting patiently, then ambled home through such lovely countryside. T Rex tripped in a hole, at which point I thought I was going to go over his head. Except a fox popped out of the hole, which pushed T Rex up again and we both survived. I could not believe what I saw! It left me grinning from ear to ear, and T Rex watching his feet more carefully for a while!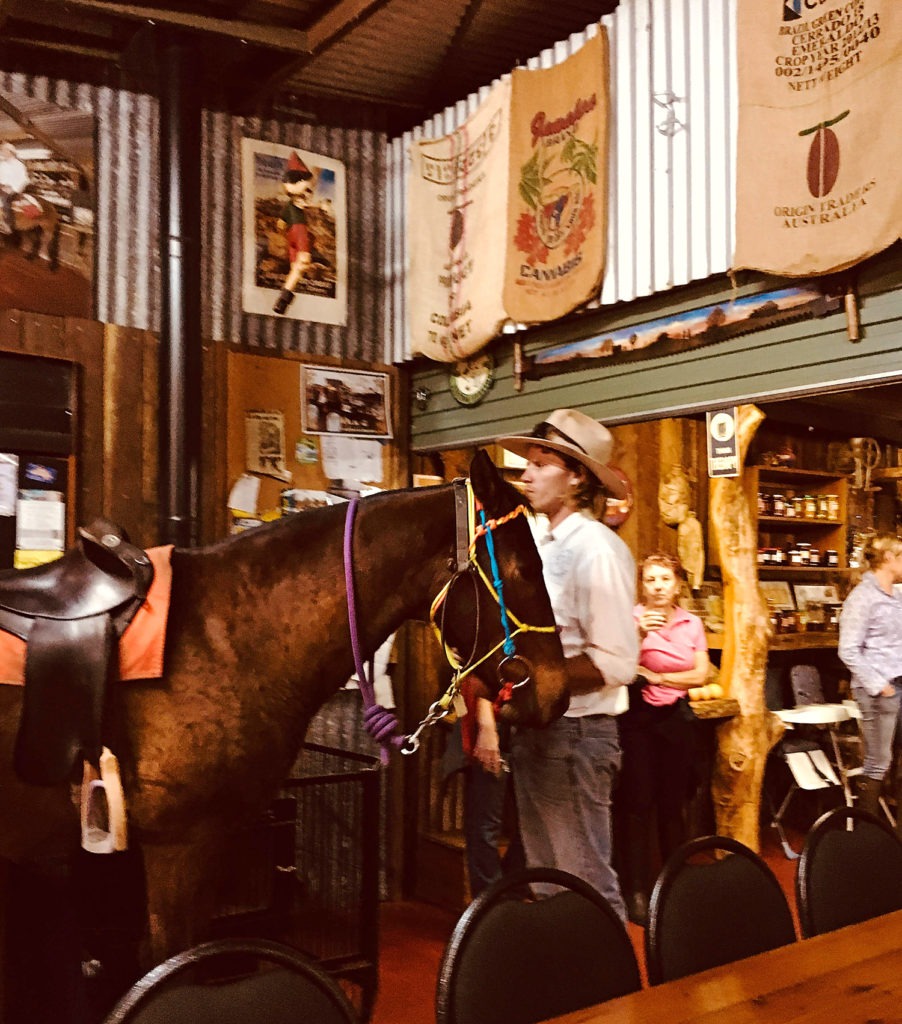 But it wasn't all riding, we had a lovely visitor one evening; only 15 years old and by the light of the moon and headlights of a vehicle, she gave us a whip cracking demonstration.  The show was first class. And I had a 'crack' at it – It is a lot easier to hit oneself and cry out than it is to hit the ground and make the whip cry!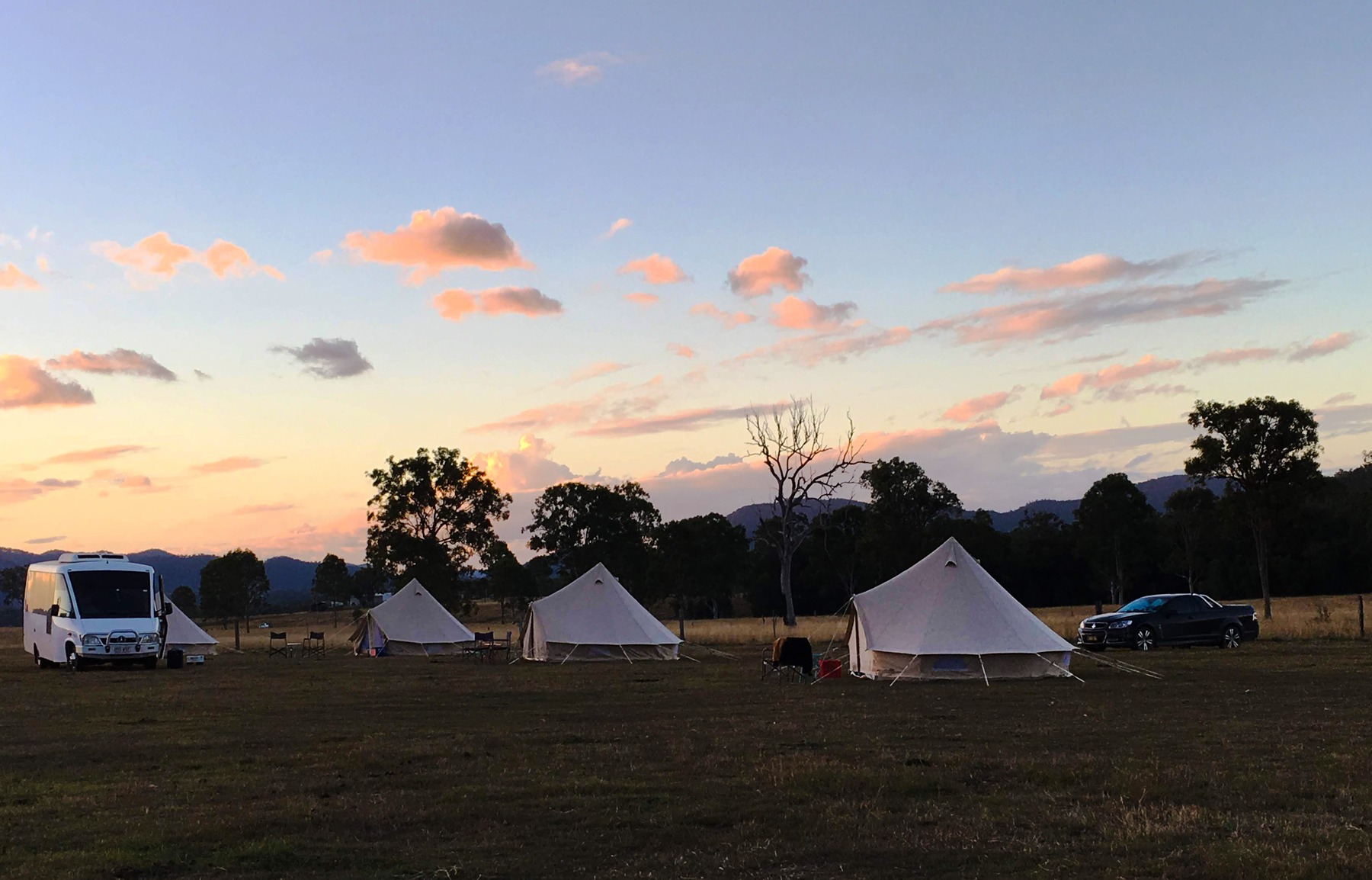 There is something very peaceful about 'mustering' cattle. That is, until something goes wrong. Now, you do realise we were all novices, some of us even novice riders, never mind jackaroos. So we were not mustering 2,000 cattle 100 miles; rather about 70 cows, a few miles. Still, it was mustering. Instructions were given, we were allocated our places and so began the task of gathering them all together so we could get them out of the gate and onto the road. We 'plodded' along with cars patiently waiting behind and in front of us – this is the country after all – or should I say thank goodness, as they did not seem to be at all agitated despite having to wait for an awfully long time while we herded the cattle from A to B.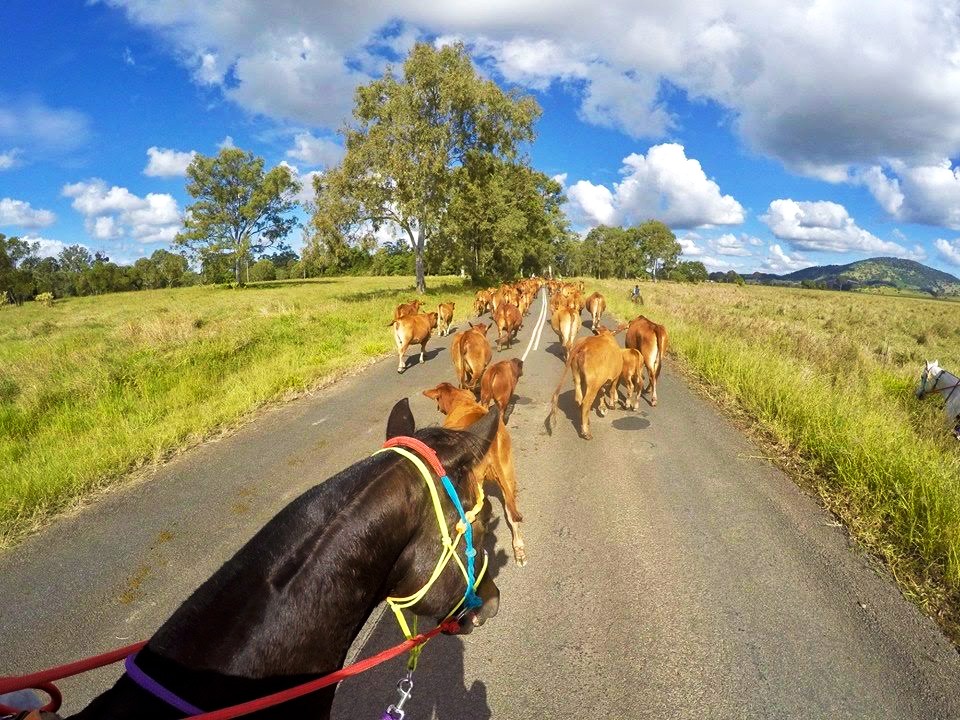 And just when you think all is going well, a cow finds a hole in the fence and runs through, which means all the others follow. And there they are, in a field with another herd of cows. Which means we have to sort the two herds out and then take ours back on the road.
That deserves a whole blog – suffice to say, we did a lot of watching while the experts (the Rainbow Beach riding team) did the work of separating the two herds. And the rest of us? Stood and watched and munched on fruit we had brought with us.
Once the herds were separated (thankfully there was an old dip pen we could use to do this) we had to begin again. Herding them into a group to continue to point B. Back on track and again thinking we had this all under control, a dog ran out of an open gate (what farmer leaves a gate open – I ask with tears in my eyes). This was no Kelpie used to sheep and cattle, but a mean-spirited dog that ran wild amongst the cows – dispersing them again this way and that. And I must tell you, when 70 peaceful cattle suddenly swing around and face little you on your horse and you are not sure what is going to happen, your stomach tightens and you concentrate on breathing. I heard a few choice words around me and hoped our talk about forming a wall was being adhered to by the others, or I would be alone in the melee. To be truthful, I cannot remember how we turned them around, but settle them we did, with the young owner of the dog apparently oblivious to the chaos he had just created.
And on we went.
There was lunch at a lovely homestead where we chatted about the happenings of the  morning and I have no doubt the horses had their own conversations – if only I could understand their language!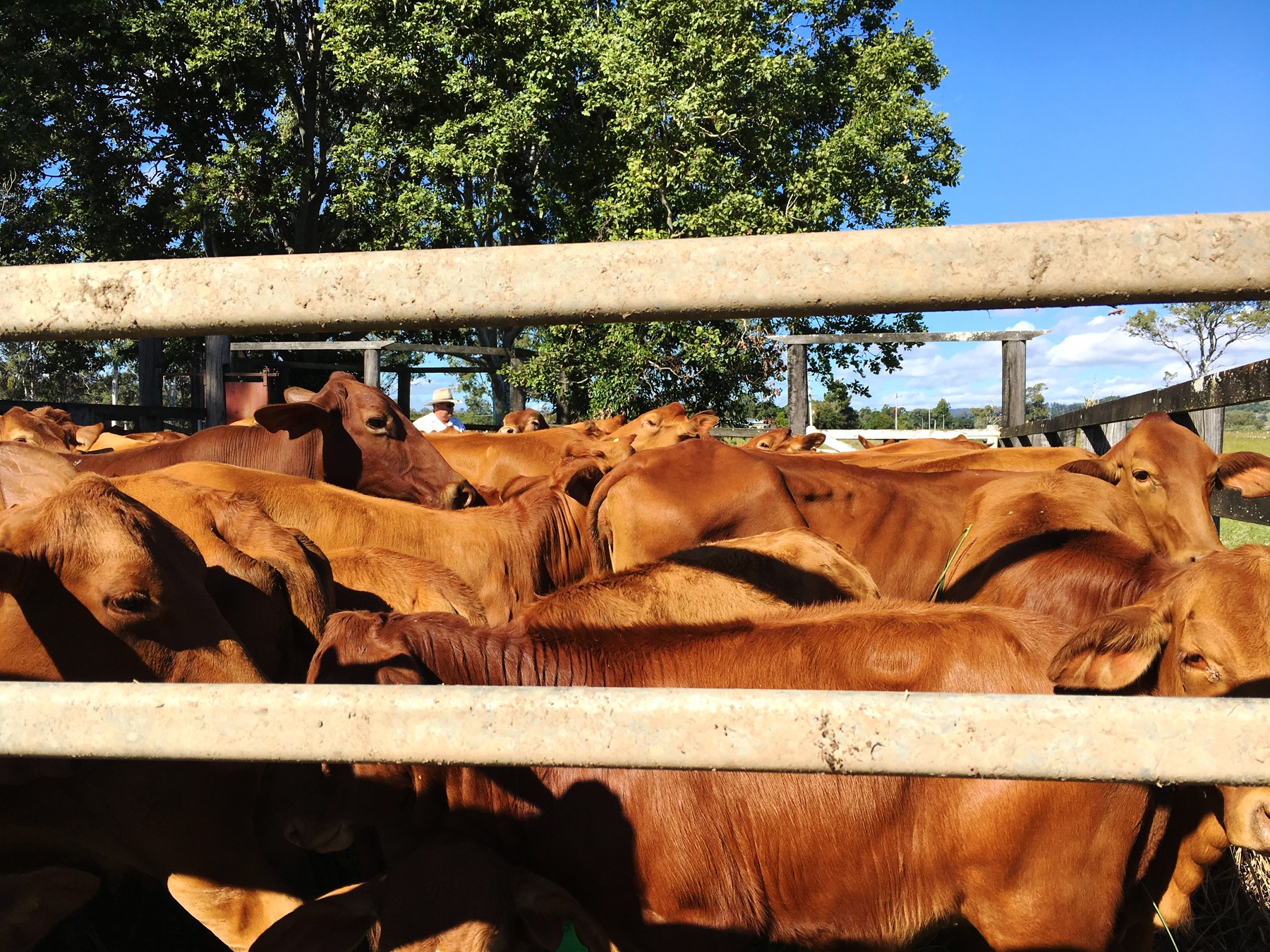 The cows were sprayed by some while others 'played' with their horses, and the next day saw us mustering them back to A.
You would think we had this under our belt by now, wouldn't you – I mean what could go wrong? We knew where the hole in the fence was.  We knew where the ugly dog lived.
And then the surprise.
An open gate saw some horses run up to us.  No problem, the cows are used to horses, so they don't spook. Shetland ponies, though, are quite a different proposition. Two little ponies followed the horses – proud as punch they looked as they trotted up to us. They could almost pass under some of our horses' bellies, but that didn't matter, Rosie next to me baulked and bolted into the 'gutter', which mean my lovely T Rex felt the need to follow. All I remember is 'hang on with your legs' – my thighs have never worked so hard, my reins less so, but we all stayed on our feet so to speak and while we recovered, the rest of the team stopped the cows from running all over the place – again!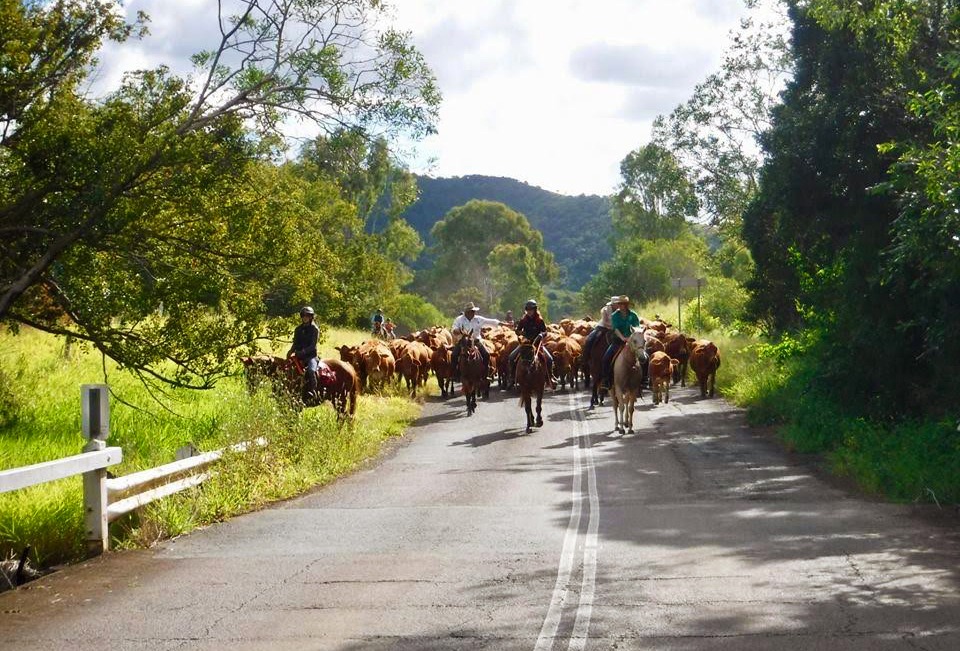 And that was us mustering…
Done and dusted – experts, clearly. So now that we had mastered the art of cattle mustering in two easy lessons, it was time to move on to greater challenges: campdrafting!
In the bus, with horses in tow, we left our beautiful Mount Goomboorian and drove through Gympie, where once again we made a pit stop, this time not at the bottle shop, but rather at the 'bandaid' shop (aka pharmacy) to attend some rather painful nether parts which one of us had acquired, which offered as much mirth to the group as it offered pain to that region. Task accomplished, we stopped at the Best Pie Shop Ever. Truly, you can take my word for that. And the chips were not half bad either.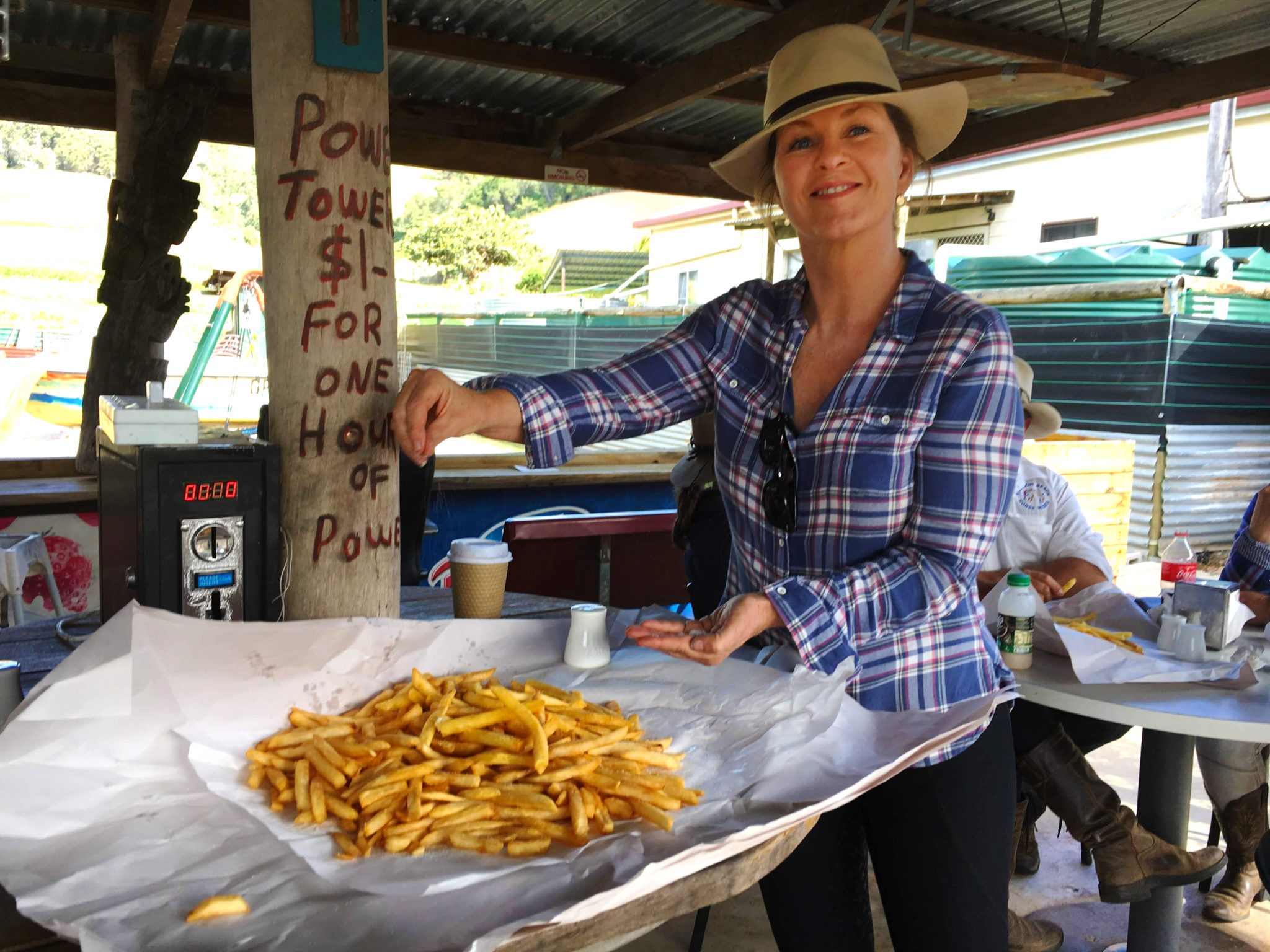 Cots Camp near Widgee was our home for the next few days, with such cute tents awaiting us and lovely views. The team here were unbelievable. I really need to give a shout out to Rod, Ash, Jake and the rest of the crew. Here we arrived, greenhorns every one of us, and with their welcome and patience, we actually came to understand this campdrafting competition.
Now for those of you who have no idea what campdrafting is (I was one of those until a few months ago), allow me to elucidate briefly.
In the days of large scale cattle mustering there was always the banter about who had the best horse, who rode the best, who could 'tame a beast' the best, etc. And so a sport was created, I believe exclusive to Australia, called campdrafting. In this, the competitor is in a 'camp' with several 'beasts' (a.k.a. cows) and on his horse he selects one and 'dominates' it by isolating it from the others and heading it towards the front end of the camp, where there is a gate into a large arena. When the competitor is ready, he calls 'gate!' The gate is opened, the cow races out, as does the rider, who then attempts to 'steer' the 'beast' around two pegs in a figure 8 and through another set of pegs (the gate) – all within 45 seconds.
Sounds easy? Well yes, when you see an expert, you hold your breath but they do make it look easy. None of us were experts!! So just like us, you now understand what we were to do.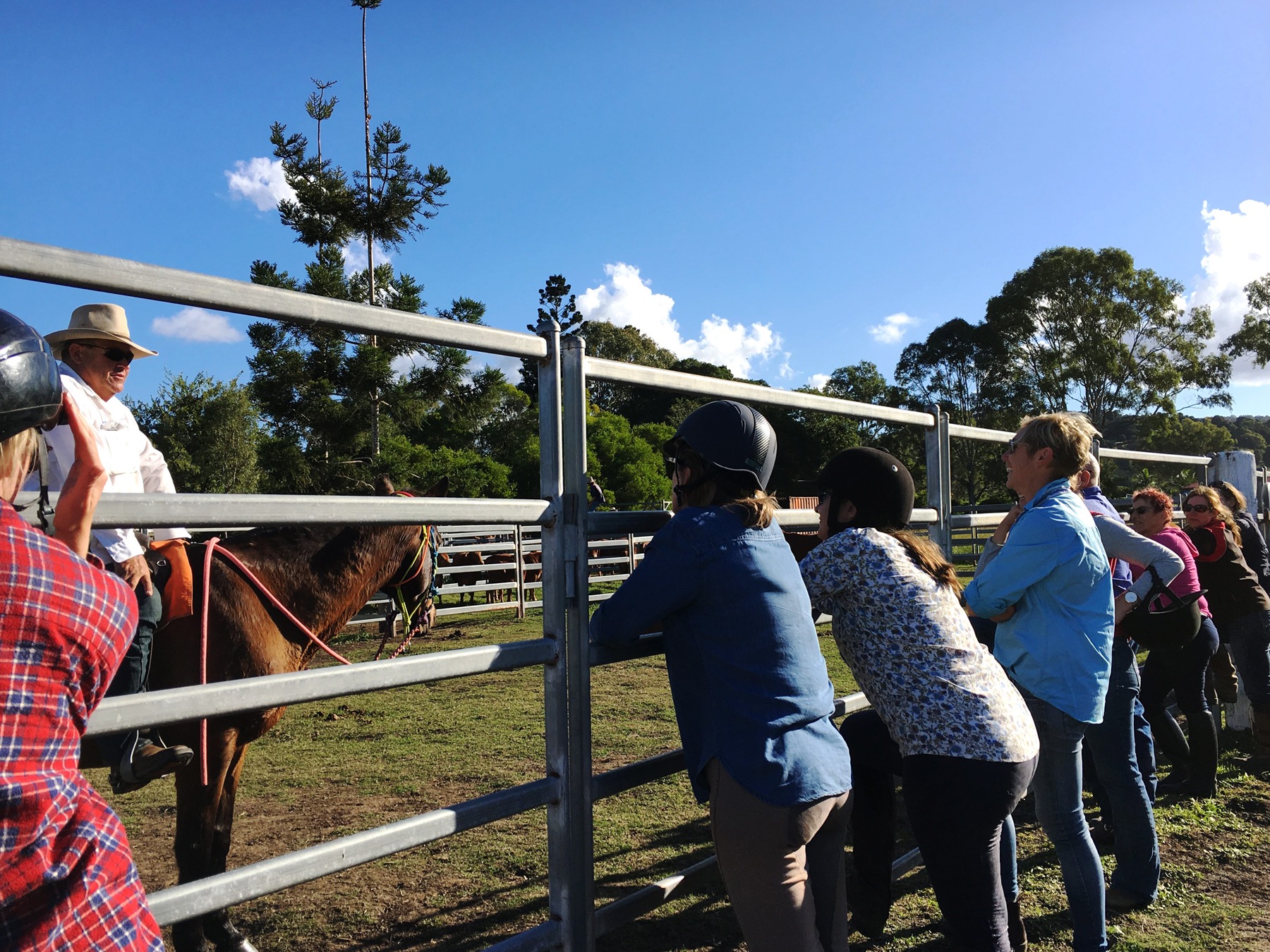 And so our days were spent being taught to chose our 'beast'; dominate our 'beast'; turn our horses on a dime; stay in the 'arc of vision' of the cow – not too far behind because all the 'beast' will hear is the sound of you chasing and it will go forward – fast. Not too close or you will clip it and you and/or your horse and 'the beast' will go down – hard. So a bit like Goldilocks: just right.
Finally, we moved from the practice runs to the Real Arena – where we had surprise after surprise as our 'beasts' roared through the gate and straight across the arena to the opening at the other end before any of us knew what had happened.
Our horses, on the other hand, knew exactly what to expect and bounded across the arena at a fast gallop chasing the cows. Our first rider, who shall remain nameless, let out a yell of surprise and found herself at the other end of the arena before the word was completely out of her mouth, such was the speed of her trusty steed!
Slowly, with amazing patience and coaching from Jake, Ash and Rod, we all started to improve – of course some did so a lot more than others (you can guess who those 'others' are – and if in any doubt, refer to the score sheet from our final day competition).
Our last day of campdrafting was a very serious competition, with much shouting and encouragement from the sidelines as each of us attempted to win the coveted trophy. On the day, I am SO pleased to say that our favourite, John, won. Never was a team more pleased for a winner.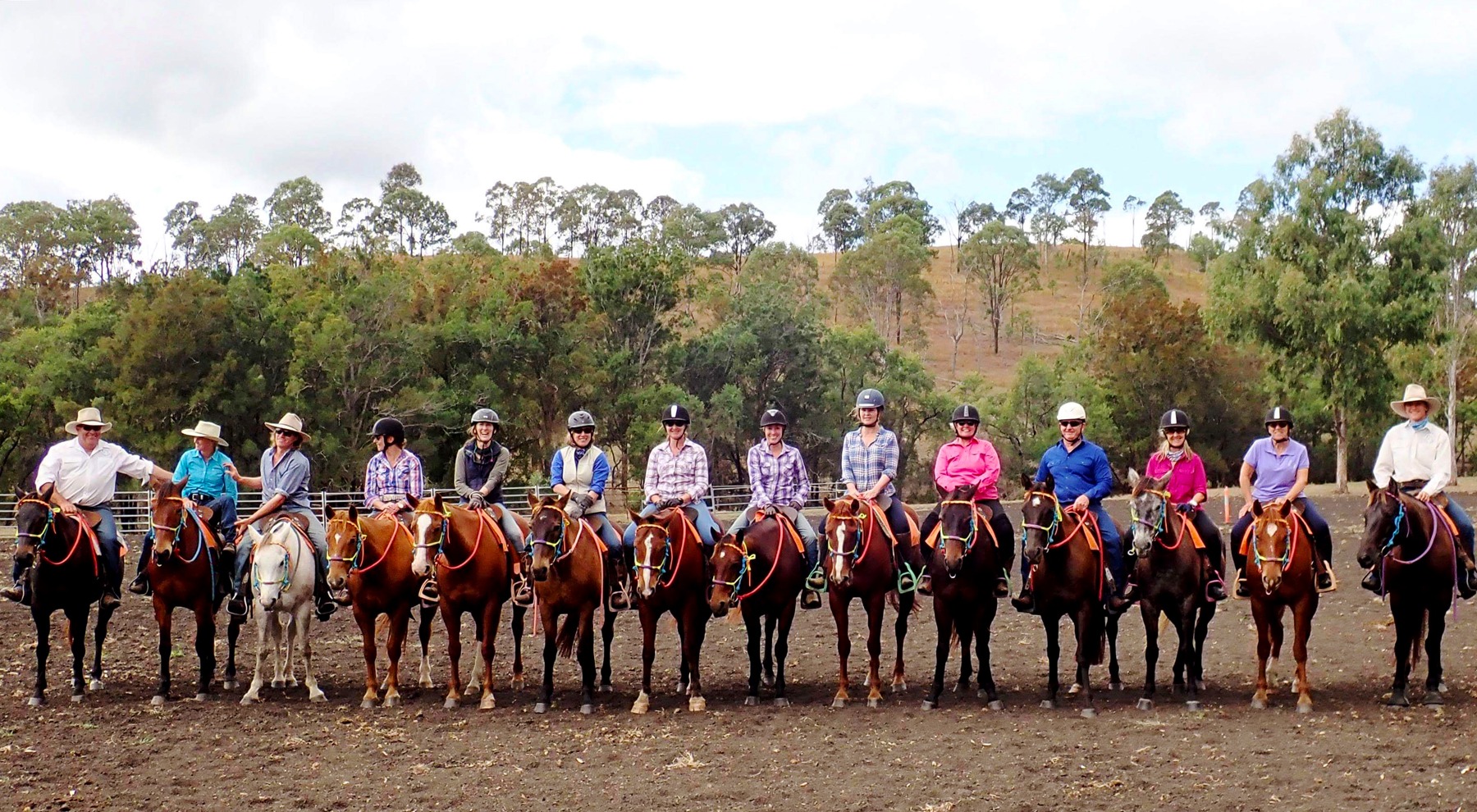 And suddenly – it was all over. We rushed back onto the bus for the trip back to airport where we all went our separate ways with great memories.