This dynamic family just brings a smile to my face every single time I think of them! The wonderful Mclachlans, or 'Team Macca' as they affectionately named themselves, rode on our Tassie Tiger Trail and it is safe to say there were many memories made that will stay with them forever. Have a read of their amazing family bonding holiday through their feedback form below!
Were there any stand-out experiences (good or bad) with the accommodation and meals that you would like to mention?
Teresa at 'Bonnie's Inn' is an amazing cook and an awesome host. She accommodated the kids' favourite dishes and kept us all nourished during our riding holiday. Funny stories, breakfast requests, homely dining area. It was awesome!
Were you happy with the horse/s that you rode?
Jen and Jeremy did well matching their horses to our riding family. 'Ruby' was a star! She looked after my husband (who was the beginner out of all of us) and she taught him a great deal over the week. Chris felt comfortable and safe in the saddle with 'Ruby'- he was galloping up hills by the end of the week!
I loved 'Mr Piccolo'-he was energetic, free and responsive. We had a ball together and, being new to Jen and Jeremy, he improved so much around the obstacle course as the week went on.
'Twinkle Tea Star' looked after Lowanna. Although more forward than Lowie is used to there were many tears when it came to saying goodbye… she cried for days actually.
'Teaka' was like a Porsche for my 13 year old girl. She was quick, responsive and like lightning on her feet. Andy had the time of her life riding her- they made a great team.
'Coltie' was the perfect match for my 15 year old son Jonah. 'Coltie' was a real spunk and enjoyed having a teenage boy ride him. They got along like a house on fire and one of my favourite moments was watching my teenage kids gallop off and away over the hills (with Jeremy close behind!).
And then there was 'Opal'- the graceful lady who carried and protected our 8 year old "baby". She was so great for Del- cantering freely along the beach and plodding along trails with Del on board. They were best mates in an instant. Watching Del lead 'Opal' around that obstacle course was priceless. That big quiet horse doing anything her little leader asked.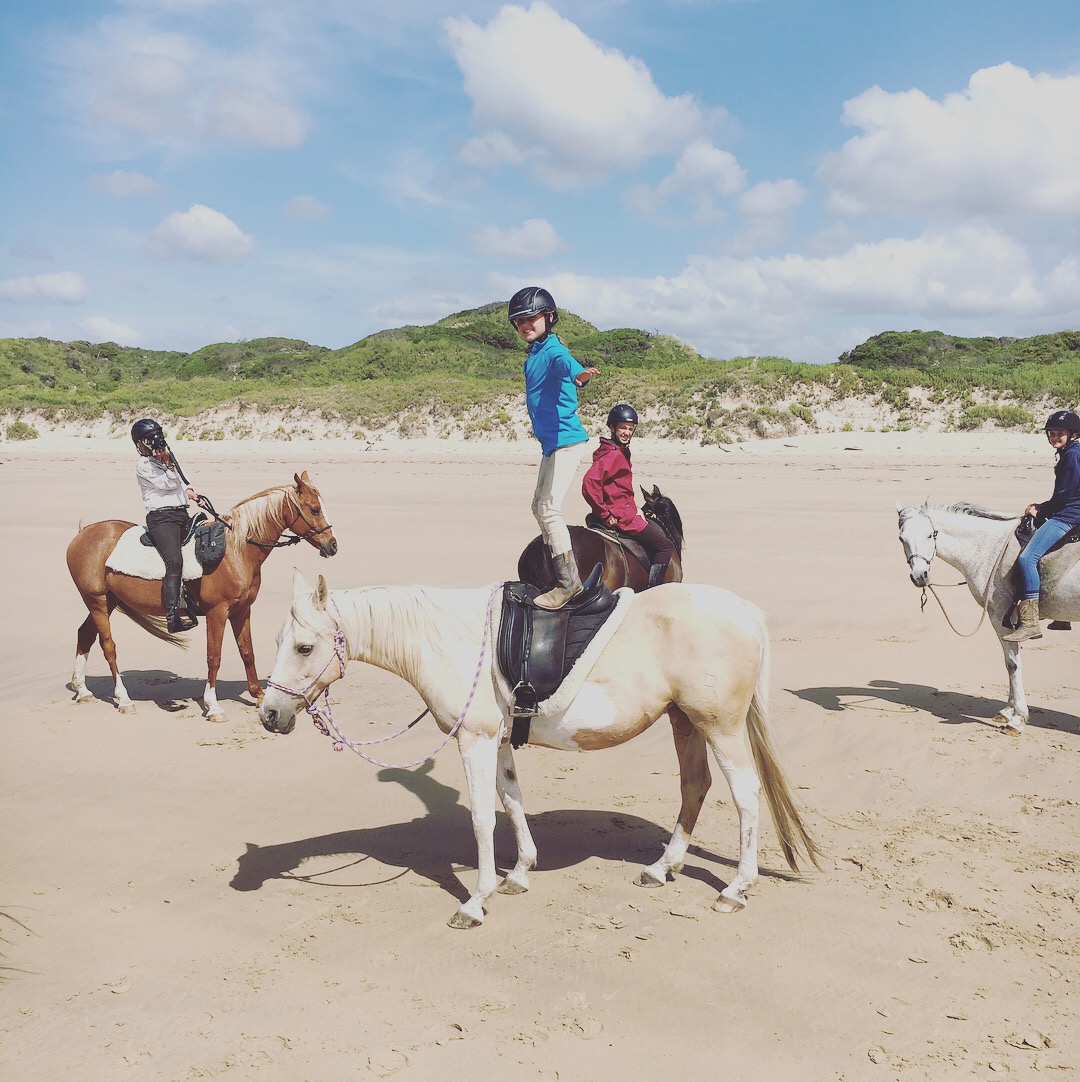 Did you have a favourite day or experience while on your globetrotting holiday?
The beach was a stand out for our family! To be able to ride on the beach as a family was a dream come true for me. Jen and Jeremy managed the ride so we all stayed safe and within our limits. The experienced riders got to open our horses while the beginner in our family actually got to learn to canter! There were way too many more special moments. To see my whole family chatting, laughing, sharing adventures on horseback was priceless.
In respect to your guides, were you happy with their level of service, knowledge of the environment and hospitality
Jen and Jeremy are wholesome, good people. They both have spades of integrity and were great educators. Jeremy has a relaxed, fun manner and easily passed on so much knowledge to the kids. Jen took care of all of us- easily adapting the itinerary to our young family. They even hosted us at the local Christmas carols. Jen and Jeremy were warm and welcoming and we instantly felt relaxed at The Gem- They ended up feeling like an extension of 'Team Macca'.
In terms of value-for-money, how would you rate this particular ride?
This ride is not cheap but it was so worth it!
We would LOVE a testimonial about your globetrotting experience to share on our social media channels.
Words cannot express how amazing our time was with Jen and Jeremy. I went into the trip wanting quality, raw, meaningful time as a family. The dynamic amongst 'Team Macca' is interesting. I am a country girl who grew up riding and with horses sharing my life. I married a city boy and moved our small family to Sydney and now there are four Macca kids. We have a child with special needs, an overachiever, a worrier and a very empathetic, grounded 15 year old. You can safely say we are all adventurous and were delighted to find this globetrotting ride to suit our road trip around Tassie.
Jen, Jeremy and their horses were everything we wished for! The kids lapped up and adored the natural horsemanship tuition. They connected so well with their horses we had some gorgeous partnerships out on the trails each day. The ride gave the kids a chance to laugh together, share adventures, pat each other on the back and reminisce together.
There were and still are many stories being told and retold. Everyone grew in confidence as riders but Jen and Jeremy also managed to bring out the best in the kids' personalities. I guess we should let the horses take some of that credit- so patient, loyal and spirited you couldn't help but want to be the best version of yourself for them.
There were real tears for days after we left. Our daughter did not want to leave her new friend 'Twinkle'. The scenery was stunning and ever-changing. The hospitality was relaxed, welcoming and wholesome. We all left with such admiration for the horses- their trust and commitment to each of us. Jeremy has done an outstanding job with them. The Tassie Tiger Trail was the highlight of our year. We were ready to induct Jen and Jeremy as team Macca's number 7 and 8! A memory that sticks in my mind is watching my 13 and 15 year old teenage kids go galloping off in the distance on their noble steeds… with Jeremy close behind!! The laughter, storytelling and sharing that followed these moments were priceless.
Thank you a million times over Jen and Jeremy and Globetrotting. In an age where we are trying to bring up children with adventurous spirits, strength, independence and grateful hearts rather than entitlement or material things- your adventure gave them lessons and tools to hold onto forever. Thank you for guiding 'Team Macca' on this journey. One we will never forget!