GUIDED GROUP RIDE TO MONGOLIA 2017
Our all-star Globetrotting guides, Jen Clingly and Jeremy Ford, are leading an inaugural Guided Group ride to Mongolia next year from June 28 to July 16, 2017. This husband and wife duo are famous amongst our globetrotters as the guides and owners of our sold-out Tassie Tiger Trail. They are horse people to their very core, don't take themselves too seriously, are nifty with a camera and have years of experience making globetrotters grin from ear-to-ear. Get to know them here in this Q & A.
This special guided group ride is limited to 12 globetrotters (SOLD OUT) and is perfect if you're a solo globetrotter who has dreamed of following in the footsteps of Chinggis Khaann. This 19-day itinerary is bursting with techno-coloured Mongolian culture; from being spectators at a rural Naadam Festival, spending time with the nomadic reindeer people, being invited into a Ger to sip on ayrag (fermented mares milk) to watching a spine-tingling shamanistic ceremony.
Riding in Mongolia is the final frontier of all horse riding holidays, itineraries don't always go according to plan, spontaneity is key and a good sense of humour is a must! BUT if you're a modern-day explorer at heart and are looking to jump off the conveyor belt travel than this ride has your name emblazoned all over it!
The ride price is *$3900 USD per person plus $400 USD regional flight. Incredible value! Keep in mind the price doesn't include international fights, travel insurance and visas but rest assured Globetrotting can provide a competitive quote on all of this. *To hold your saddle seat, we require a 50% deposit and final payment is ten weeks before departure date. Payment is via credit card with a 2% surcharge.
This is what our latest globetrotter, Georgia Vavasour, thought of her 19-day Khovsgol adventure.
"Mongolia completely blew me away – from galloping with only the sound of the horses hooves and endless, expansive sky and verdant valleys spreading out before me to spontaneously being welcomed to spend the night with a local family in their get, tasting their freshly-made yoghurt so alive with probiotics it fizzed on the tongue and sleeping with their young daughter peeping over the edge of her bed at me, too excited to sleep with the first foreigners she had met staying the night – the experiences, the people and the landscape are indelibly etched in my memory. Mongolia is truly unique and one of the best places to visit and ride horses in the world!"
If you're still not convinced, watch this video aptly titled '5 reasons to ride Mongolia before you kick the bucket.'
Click here to request a detailed itinerary regarding our Guided Group ride to Mongolia for 2017.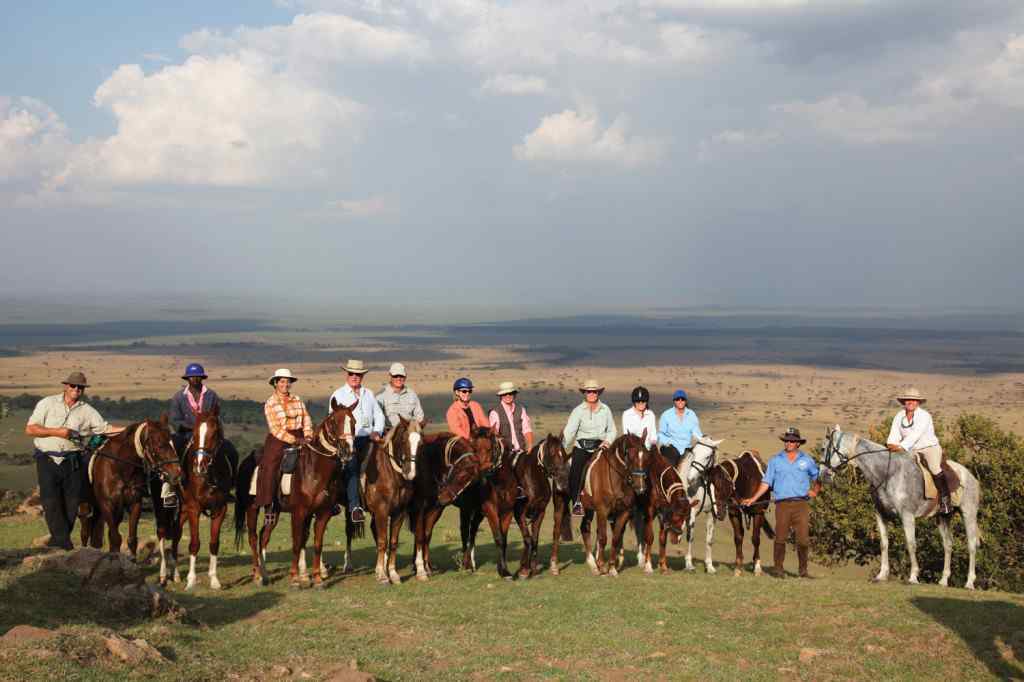 WHY CHOOSE A GUIDED GROUP RIDE?
Some of our clients prefer the safety net of a guided group trip to ensure they are well looked after from when they arrive in their chosen country to when they leave after the ride. It takes the guess work out of travelling so that you can truly relax throughout your holiday.
Typically the day before the ride starts your guide will spend a day with you and the group visiting the tourist attractions of the capital. Also if you have any problems throughout the ride, it's the guide's job to fix them. The guided component also includes a disc of professional images and video of your riding holiday, photographed and filmed by your guide, a globetrotting safari shirt (very stylish!) and a professional hardcover coffee table book of your ride which you'll have forever.
Each year globetrotting schedules guided group rides to Africa, South America and now Mongolia led by either founders and guides Kate & Steven Pilcher or Angus Johns who has ridden extensively around the world.
MEET THE GUIDES
Kate & Steven Pilcher (left & centre in above image) have been roaming the globe on horseback for the past ten years. Kate Pilcher has worked as a horse-riding guide in Kenya and Argentina and speaks conversational Kiswahili and Spanish. She has an intimate knowledge of the riding destinations that are in the globetrotting portfolio. Both Steven and Kate are professional photographers and have their cameras constantly poised to capture your riding holiday of a lifetime. They are on the pulse in terms of guests needs and what guests would like to experience on their riding adventure.
Angus Johns became addicted to horse riding holidays after a ten-day ride through the Masai Mara in Kenya eight years ago. Since that fateful safari he has globe trotted around the world to far-flung destinations like Namibia, Brazil, Botswana, Argentina, Chile and Costa Rica. Before becoming a GT guide, he spent years travelling, as a riding guest so he understands what a globetrotting client is looking for in their riding holiday of a lifetime.
To request more information on our guided rides for 2016 and 2017 click here.