If you can't get enough of the Glenorchy Back Country ride, don't worry, you're certainly not alone! And thanks to Brielle Hallett, who recently completed this sell-out ride, you can quench your appetite for all things New Zealand with this glimpse into life as a globetrotter!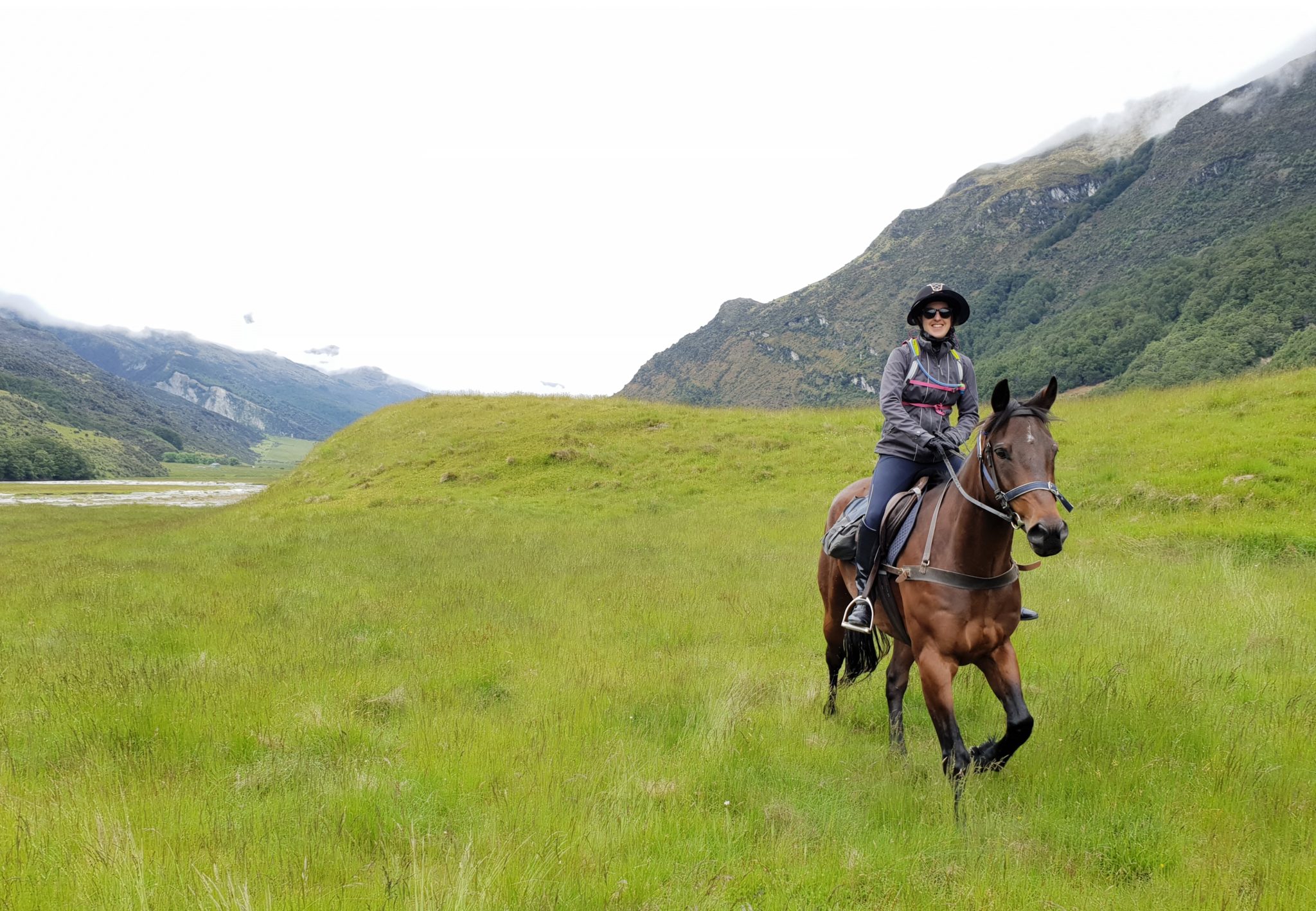 Day 1: Arrive at High Country Horses
Getting off the bus after a fabulous drive down to Glenorchy felt a bit like stepping into a home I never knew existed. There was a sense of calm mixing happily with my excitement while I darted my eyes over the well groomed, happy, healthy horses wondering which was picked for me.
The staff were welcoming, lovely and had their work cut out for them answering the many rapid-fire questions being shot their way.
After being given a massive Kathmandu camping bag (which I could have fit in) we were left to our own devices to play Tetris with our belongings. We then got to meet the owner Deana, and my gosh, she is incredible! I wanted her along on our ride. Deana was welcoming, intelligent and kind. I could see how High Country Horses was not just her business but part of her heart.
Deana and her daughter Casey, along with our unforgettable guides Jess and Bijmin, talked us through a safety briefing and then we got to meet our horses!
My packed lunchbox said 'Brielle – Buddy' and the butterflies kicked into hyper-speed – Which one was Buddy?
While I stood there overwhelmed, the gorgeous Jess soon pointed me in his direction. I locked eyes with a tall, athletic, bay Thoroughbred gelding with a gorgeous thick mane and tail which hinted to me that he must have been mixed with a heavier breed. I introduced myself and filled up the saddle packs with my lunchbox, his lead rope and other
necessities (camera, sunscreen, insect repellent, lip balm, jumper). I then led him over to mount. My saddle looked like a mix between a jumping and an all-purpose saddle, real leather and great quality. As I was mounting, I was told about the ride ahead and what to expect. I then easily walked Buddy into the shade and took a few deep breaths whilst looking out to the snow-capped mountains, hardly believing I was actually there.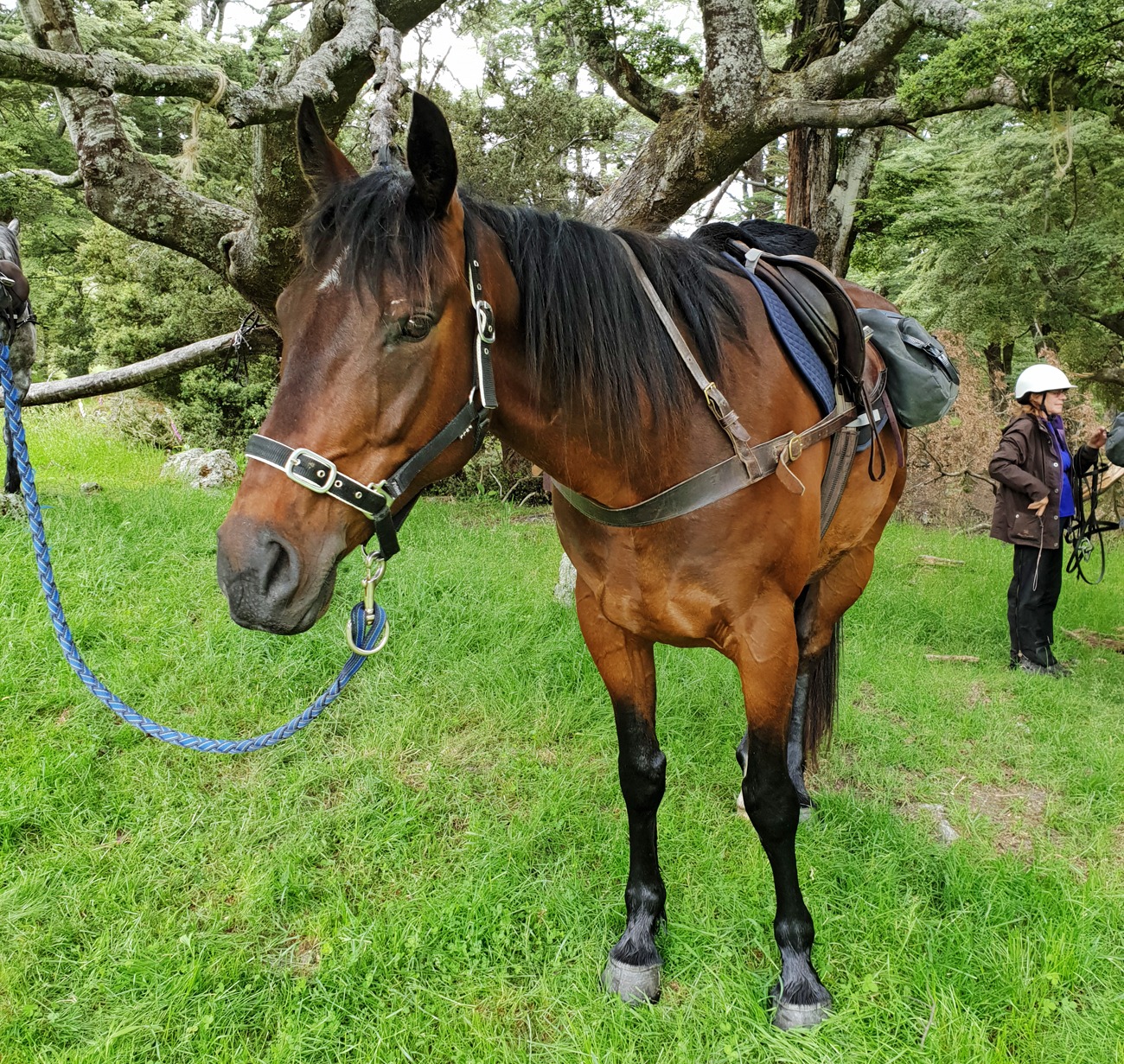 After everyone had mounted Deana said farewell and Casey, Jess and Bijmin led us off for our first day ride to Rees Valley Station's shearer's quarters. Day one was a bit of a blur, lots of getting to know Buddy, the guides and fellow riders.
Highlights were riding through the amazingly beautiful lupin fields, which smell even better than they look. Gazing out at the snow-capped mountains and breathing in the fresh air. Buddy and I had a lovely first ride and I felt by the end of the day that he was matched pretty well to me.
Riding into the station was magic.We got to splash through a long creek which opened onto this incredible green property where we were staying. We rode in, untacked our horses and put our gear away. I spent sometime grooming Buddy and thanking him for being kind to me on my first day. Once all the horses were checked over, they were let loose to enjoy the vast paddocks.
The view from the property is beyond words – huge snow covered mountains seem to hug the station from all sides and the sunset reflected every colour off the snow. We were directed to the bathrooms and then to our cabin for the night. I was bunked with Rach, Cheryl and Jan – a perfect match and we all became fast friends. The beds were comfortable and spacious enough for all our gear – tip for next time – Don't wear the waxy rub on natural deodorant – it melted onto my clothes and was gross. Dinner was YUMMMMMY. Spending time with Jess, Bijmin and Casey was great, and the shower was appreciated.
Day 2: Depart Arthurs Creek Musterers' Hut
We all woke up with smiles on our faces ready for day two – our ride to Arthurs Creek Musterers' Hut. It was a bit drizzly so we wore our raincoats. Breakfast was cooked by Jess and Bijmin and we packed our lunch boxes. After catching the horses and giving them a brush, we tacked up and packed our saddlebags.
Out through the awesome riverbeds again with the water lapping just below my boots then coming out of the forest into an endless field of purple, pink and cream lupins – the smell and sight was divine. We crossed icy flowing streams and rocky beds to reach the lush green grass on the other side. We stopped for lunch at a beautiful clearing overlooking the braided river below. We just sat on the soft grass and ate – no worries about bitey ants or insects because we are in New Zealand and they don't exist over here.
After lunch we entered the forest – a beautiful roller coaster ride through dense green trees. Once out of the forest the track opened into 180-degree views of the mountains and aqua rivers below us. We stopped for a few paparazzi sessions and then continued up the valley, which included many water crossings and unfortunately some rain.
Highlights: The amazing lupins and beautiful scenery. Buddy getting softer for me and us understanding each other better. Jan and I having an awesome time.
As we approached camp for the night Bijmin and Jess told stories of the musterers and the history of the valley, so by the time we reached our tents we were in awe of the land. We again untacked our horses and gave them a BIG brush and a few sneaky treats before letting them loose. I found out Buddy is actually Houdini and escapes out of the smaller paddock to gorge himself on the lush grass on the other side – in New Zealand the grass really is greener… though catching Buddy the next morning was a laugh.
Our tents were ample and the swags comfortable – we were happy to call this place home for a couple of nights. The food was amazing again. We all pitched in to help clean up and then sat around talking until our eyelids got heavy…. and so did the sand flies. Falling asleep to the sound of native birds, horses and a waterfall was a real treat.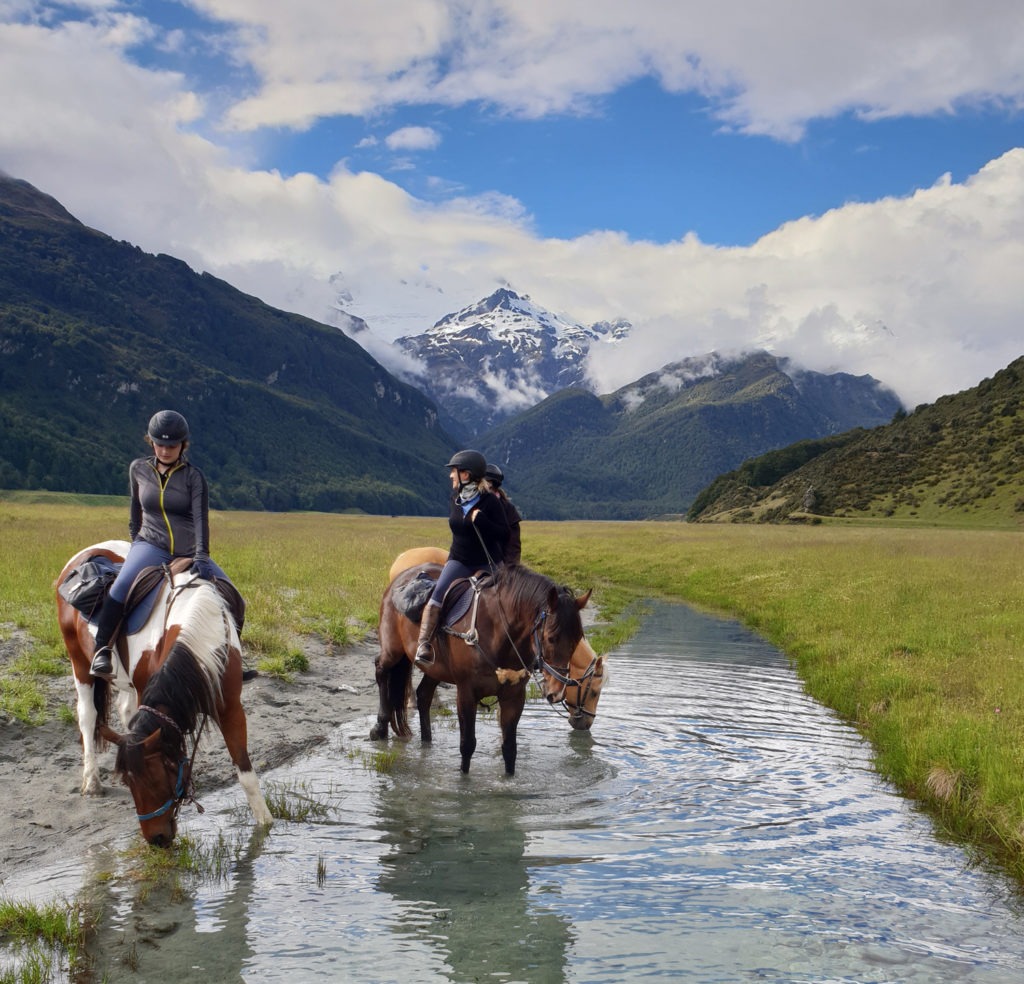 Day 3: Adventure to swim with horses in glacier water, Lennox Falls and 25 Mile Creek.
Can I just say how much I LOVE BUDDY!!! Man, I just want to bring him home with me – turns out he is quite the trick pony. I am finding more buttons on every ride, he even started working from behind yesterday and it was like riding a dream… I wonder if he is counted as carry-on?
Day three saw us in hysterics trying to catch Buddy in the MASSIVE paddock. Once all the horses were caught and tacked up we embarked with super excitement to swim the horses in the glacial water. We rode across the braided river to 'Pride Rock', an amazing photo opportunity – Jess and Bijmin were soon the proud holders of about 1000 cameras and phones, juggling to take photos of every individual and their mount on the hill, up the hill, cantering up the hill, down the hill, in the grass and my gosh the photos are wonderful!
We then carried on down the valley, going deeper and deeper to places only horses and helicopters can reach. All we could hear was the sound of hoofs crunching over river banks and birds singing happily in paradise. Looking around the views were of glaciers, waterfalls and snowy mountains. Once we reached the turquoise still water where we would be swimming, the individuals who were going the full hog untacked their horses, got into their swimmers and tried to calm the butterflies in their stomachs for the thrill that lay ahead. These brave warriors re-mounted bareback (with helmets) and crossed the river to their icy destiny. As they almost disappeared from our view, we heard shrieks and laughter as the horses and riders were submerged in the freezing glacial water. All the riders came back absolutely beaming with joy. We all sat down to lunch together before the next leg of the journey.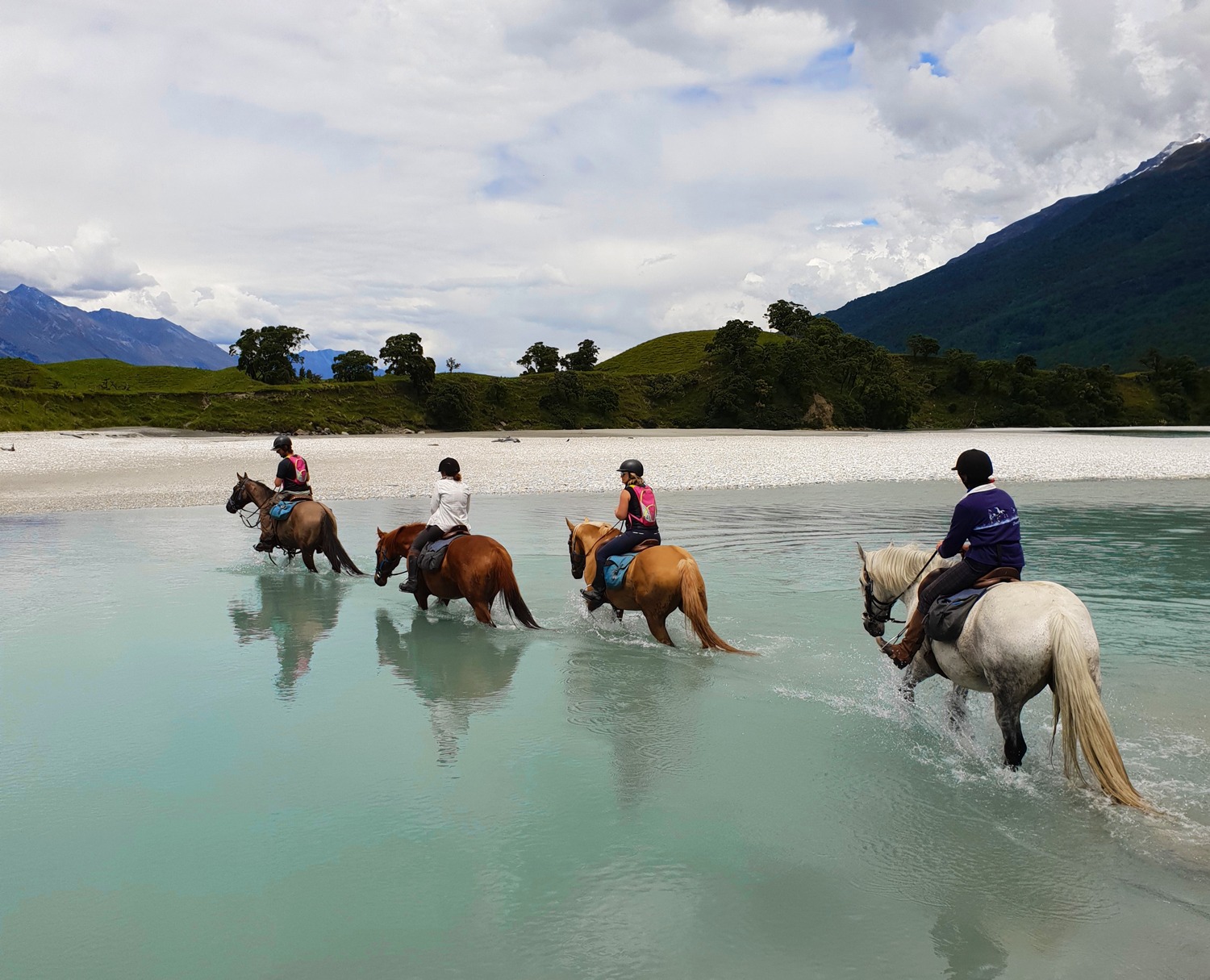 After tacking back up and still on a high, we rode back up the valley to Lennox Falls – This was one of the BEST experiences of the whole trip. We untacked the horses, they all had a roll in the lush grass and we started our little hike up the falls. The untouched forest of mosses, ferns and endless green was overwhelming. I just had to stand for a moment and appreciate what I was experiencing and how few people would ever get an opportunity like this. We started the steady climb to the base of the glacial falls – the water drops were like tiny icy prickles on my face. Jan, Cheryl and I were the first to the top with Bijmin. The sheer power of the falls is something I can't really describe. I compare it to being in the middle of a wind storm with freezing water whipping your face. It was exhilarating – we were totally dwarfed by the waterfall.
We walked back slowly, taking in the experience and knowing it was something truly special. Then we set off with the horses again, stopping in a crystal-clear stream for the horses to have a drink before being introduced to 25 Mile Creek. The creek itself was breathtaking – you could feel the freezing turquoise water through your boots, even though there was half a metre separating them. Bijmin told us the sad history behind the
bridge and we considered ourselves fortunate.
Highlights: LENNOX FALLS!! Seeing the horses all rolling and enjoying themselves. Untouched Forest. Jess and Bijmin being incredible.
The ride back to the huts was relaxed and once there and untacked, we had time to explore the area and refill our bladder packs straight from the waterfall. Buddy had two palomino friends with him this night, Merlin and JT. The three amigos ventured far away for greener pastures. Dinner was incredible again. I thought I would lose weight on this trip, but I think I have actually put some on, they fed us very well! Most of us stayed up and chatted that night, comparing stories and laughing until our bellies hurt. Then we retired to bed as it was getting dark and the sand flies were incorrigible.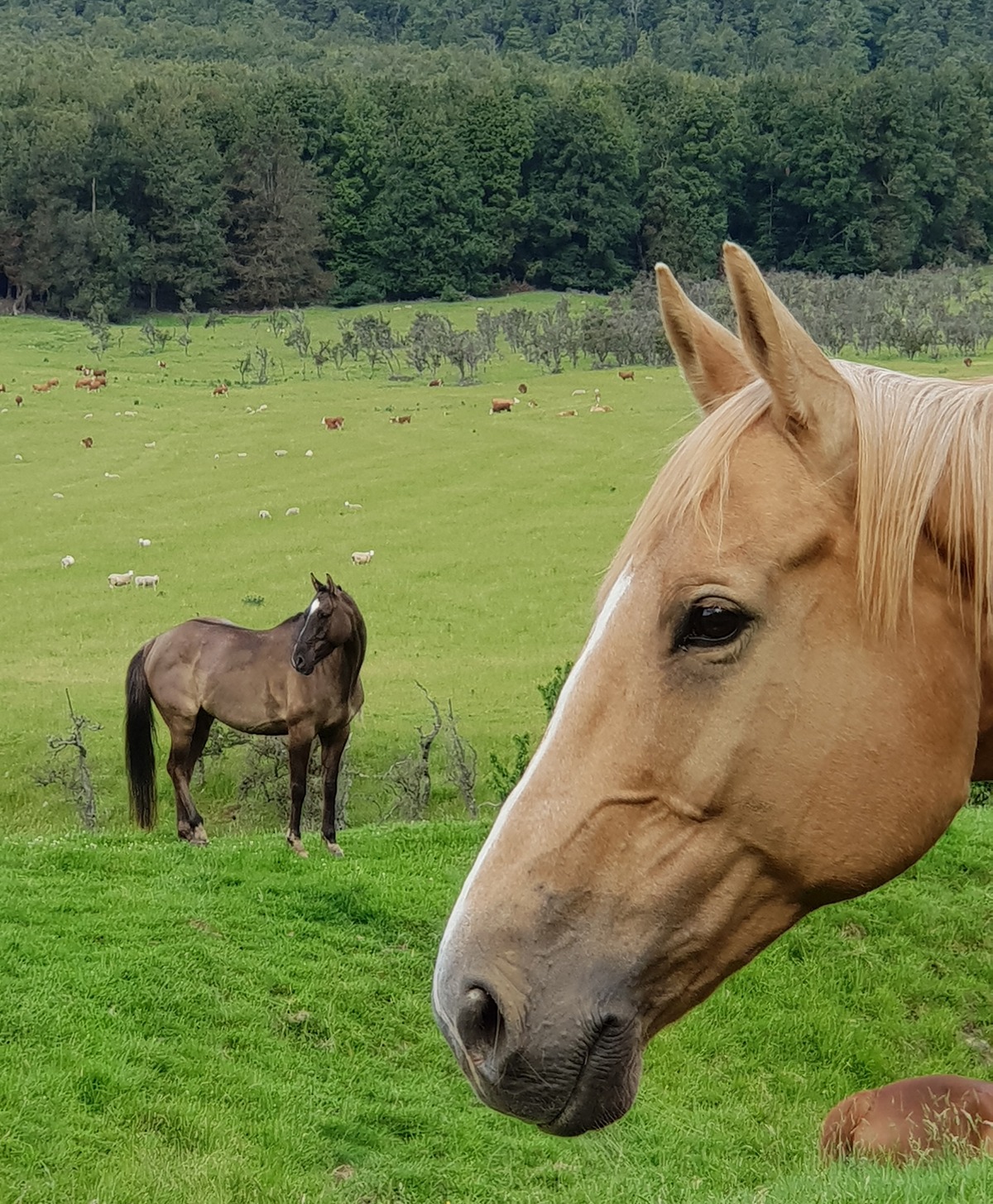 Day 4: Time to spread our wings and ride off to paradise
Day 4 gave us the opportunity to spread our wings and let the horses fly. We were separated into groups and presented with a beautiful rolling hill to gallop up – Finally a chance to let the Thoroughbred in Buddy loose. Buddy took off with my permission like lightning, breathing heavy and leaving the field in his dust – that was until the little pocked rocket, Gizzy, with Cheryl on board flew past at incredible speed for such a compact chestnut! I don't think we could wipe the smiles from our faces and Buddy was quite proud of himself. We rode along cliff edges with Rach, enjoying the view, before retreating away from the ledge to the safety of the pack. We went up and down rocky outcrops and crossed the braided river again. We passed Invincible Creek and I understood why it was such named as it carved its way through the valley. Lunch saw us in a massive open field with the softest grass and giant fallen trees to laze upon. After a few afternoon siestas we rode off again, with Buddy showing me more talent and easily (and beautifully) jumping fallen logs – it was pure bliss. After a beautiful ride we started to see Paradise, and boy does it live up to its name.
Highlights: BUDDY being a superstar, Jess and Bijmins stories.
Arriving in Paradise was as the name suggested: a flushing toilet and a gorgeous hot shower was just what the doctor ordered. After we had all showered and were feeling like ourselves again, we ventured out to explore Paradise Homestead. The Annexe and Miller House are both listed as Category 1 Historic places. Tastefully restored, with all creature comforts provided for, this really is the ideal setting to relax and rejuvenate the soul. We
played in the treehouse, visited the sheep and pig and explored the countryside.
Dinner was served in the old Glenorchy school hall and was the best dinner yet, roast with all the trimmings and an amazing dessert. We played the old piano and enjoyed the meal together; this group was like one big, though slightly dysfunctional, family. Jess and Bijmin took us on a little adventure after dinner to see some glow worms. The whole stay was simply magical. Oh oh oh – I nearly forgot about the bumble bees – New Zealand bees are soft, fat, cuddly and adorable! There were so many at Paradise I couldn't handle the cuteness.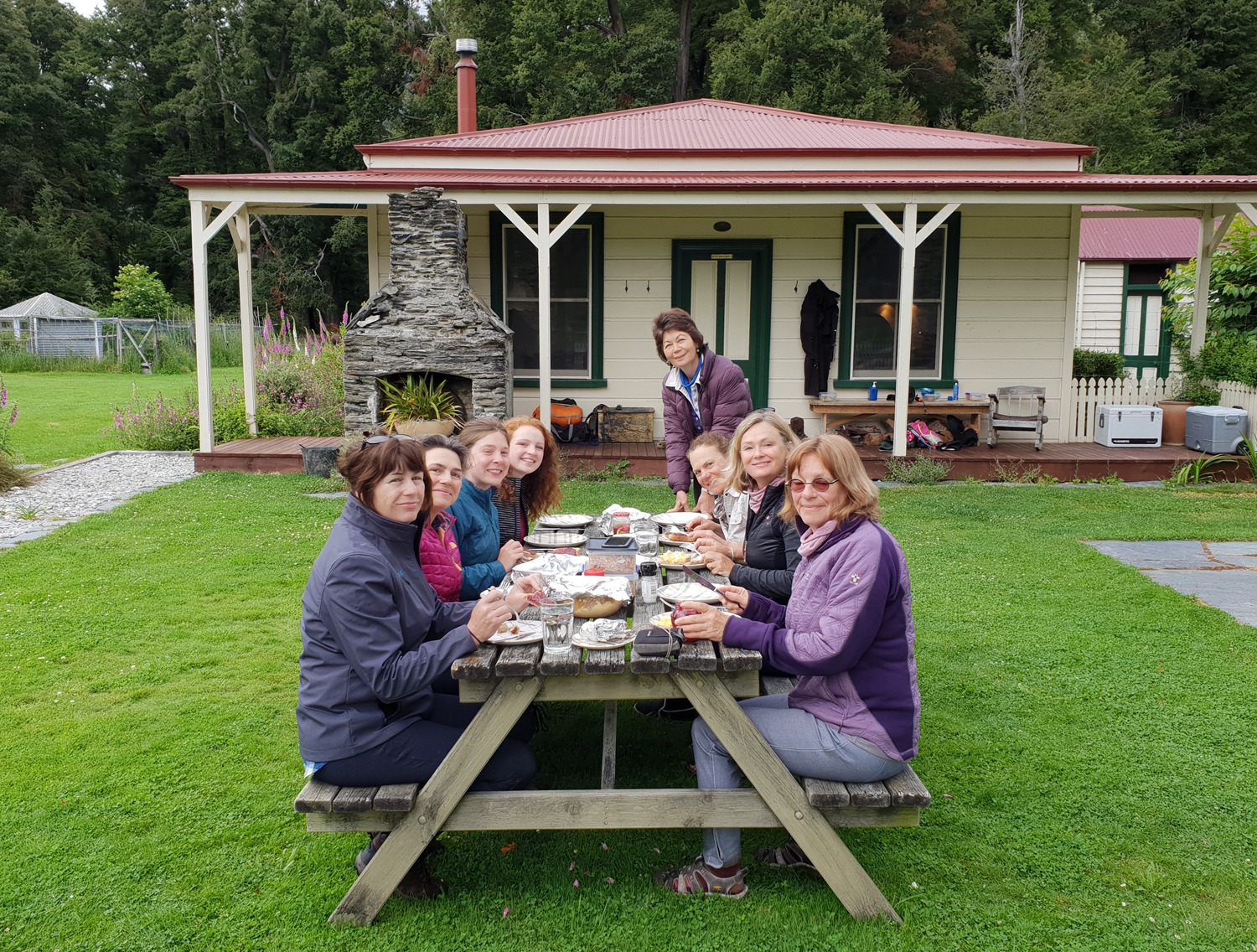 Day 5: Take the trip back to High Country
It was sad tacking up our horses for the last time. I think they all got extra love this morning. We explored many different places on the ride back, with one of the best views I have ever seen. We visited famous landscapes from The Lord of the Rings, Wolverine and The Chronicles of Narnia – the inner nerd in me was screaming with excitement. Unfortunately, Bijmin wouldn't re-enact the Wolverine scene… even with Jess egging him on.
Everyone was a bit sombre on the ride home, with most of us wanting the ride to carry on forever. Once we got towards High Country Horses, you could see almost everyone giving extra love to their horses and whispering sweet nothings while they rode along. Once we dismounted the tears started flowing as we had to say thank you and goodbye while we untacked. These horses were absolute gems, not like your traditional trail ride
horses. These horses actually listen to your aids and are lovely and soft to stop.
Once we untacked, we took our giant bags and had to play Tetris again to fit everything into our smaller bags which were kept on site. This one was a bit of a struggle, as going from a giant me-sized bag to a carry-on sized suitcase was no fun at all.
We said our goodbyes to each other and to our absolutely amazing guides – I don't think there was a dry eye in the house. Deana was there again to say goodbye and answer any questions if we had any. I feel like I have a second family now and I am eager to return to do this ride again.
Highlights of the trip:
Jess and Bijmin, Deana, Buddy, the lupins, creek crossings, Lennox Falls, drinking from the glacial water, making some great friends.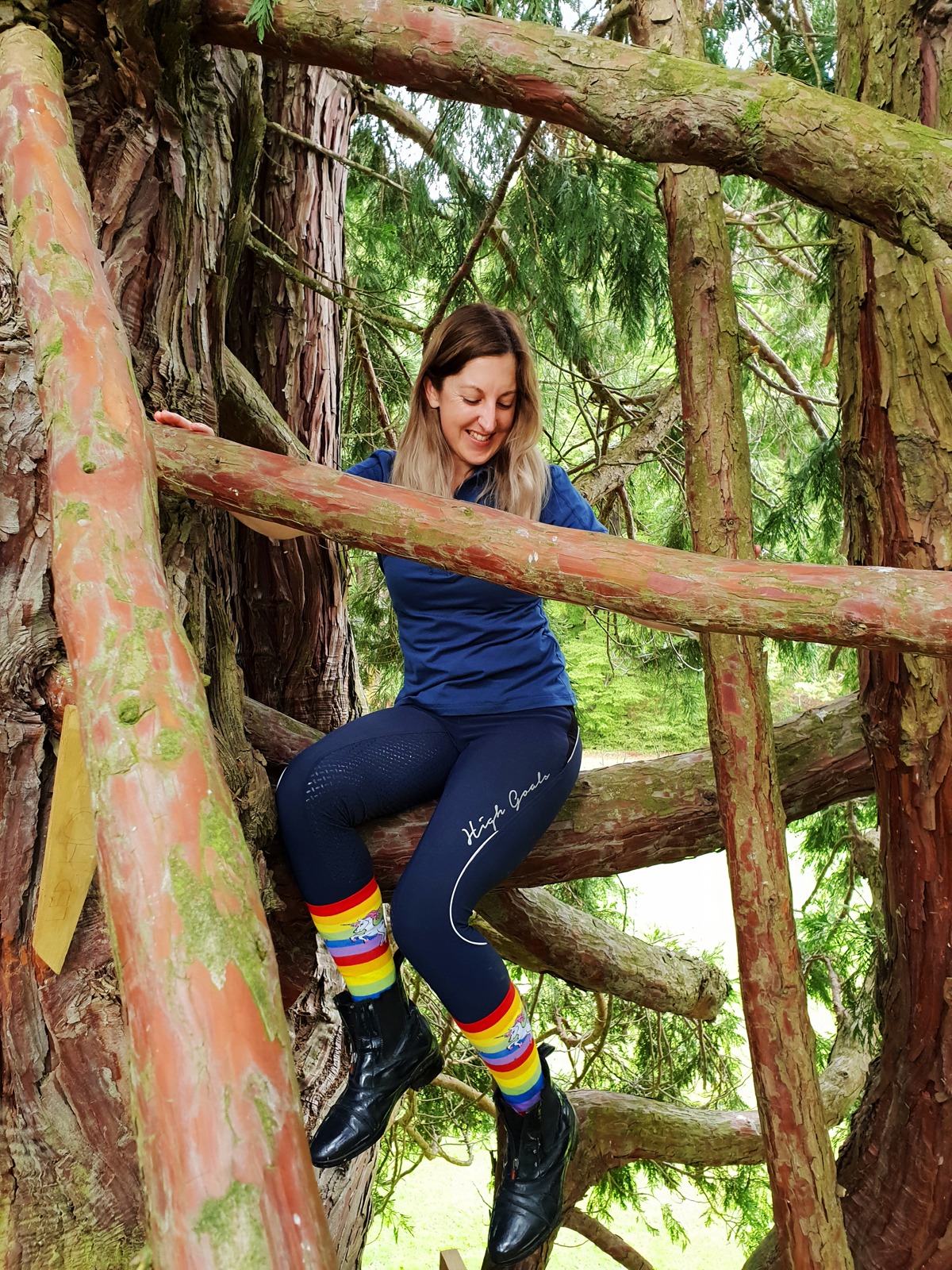 Facebook Comments