Roz Beinke's horse riding holiday in the Okavango Delta, Botswana, in June 2018 was like stepping into a different world – one filled with wildlife, brave horses, caring guides and endless adventure. But don't take our word for it – read her trip notes below!
Friday – Africa – on a bucket list ride I've wanted to do for years.
Yahoo!!! On my Botswana Airways flight from Johannesburg to Maun – small aircraft, so easy to meet people – one passenger doing bird photography from Toulouse, France and a conservationist from the US who runs Wild Trax Explorations – fascinating. Remember to take my malaria tablet on the flight. Staff at Hotel Cresta Riley in Maun are very friendly and I watch World Cup soccer in bar – Peru gets done by France.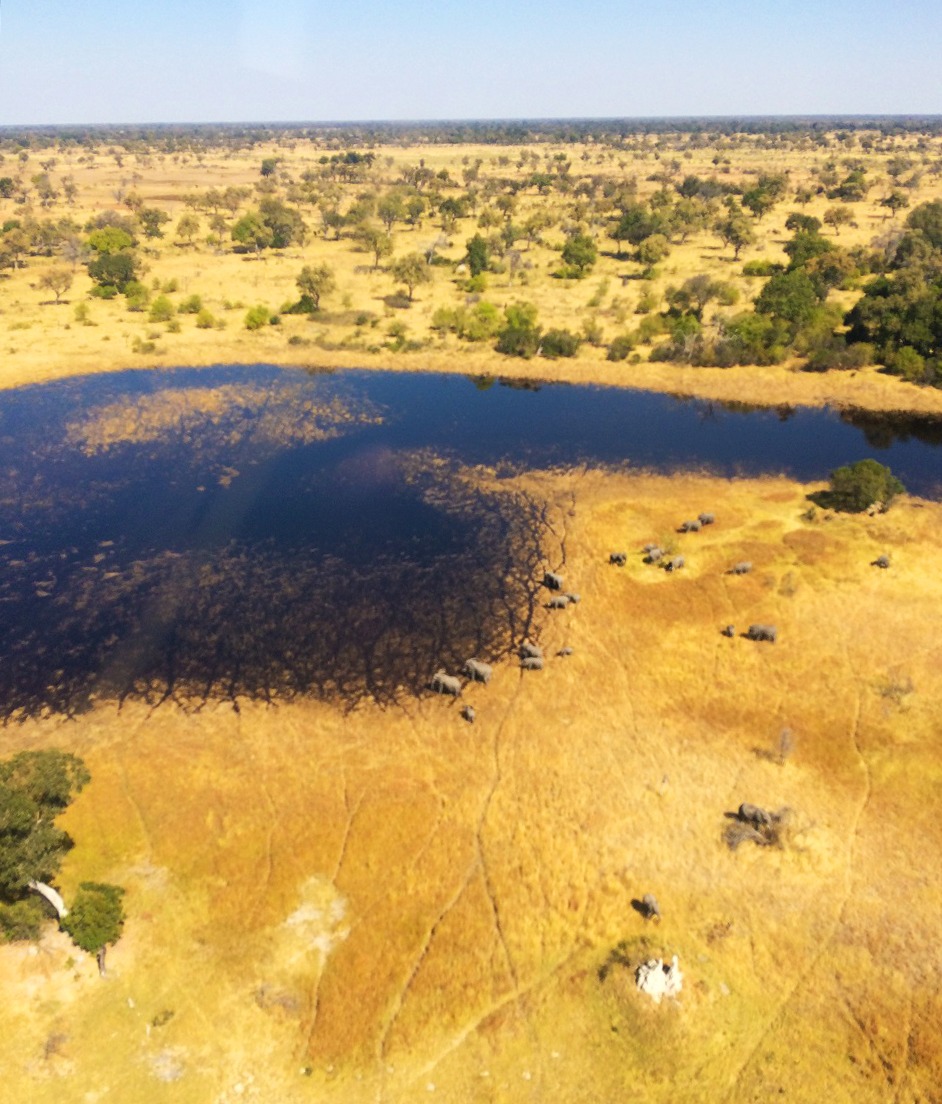 Saturday – Kujwana
Next morning I am picked up by Joe, an Irish helicopter pilot, and get a pic before flying off into camp in the Okavango Delta – SO exciting! Sit right in the front and can see elephants down below in water courses. Arrive at Kujwana (base) Camp beside the river and am welcomed with a drink from Katy, the cook. Nadine, guide/hostess, looks after me and shows me my luxurious safari-style tent. I realise there is no chance of being left to wander around alone.
The other riders arrive by plane – Bec, Caz, Amy, Roger and Jess, all from Australia. Then we meet PJ and Barney, the owners of Okavango Horse Safaris and our guide, Chief – very nice looking – have lunch, check out where the 60 horses live – no fences – open stables with an electric fence used to keep big cats out at night. Plenty of local staff needed. We then drive out to find our horses for the introductory ride. Chief explains how and what to do when riding and seeing the wildlife. I am happy with my horse Komatsu and we see elephant pretty well straight off. Wow! Such a buzz.
Sunday
After an early breakfast we mount up, glad of our jackets as it's chilly, and trot out in single file through the water, watching lechwe leaping – they're deer-like with short front legs. A Red-eyed dove woke me up (pigeons are worldwide it seems) and I heard wild dogs in the night. We see various small deer, impala, zebra, giraffes, one hippo in the distance, an elephant and calf, a lone hyena and a warthog family. The scenery is a flat mass of yellow grass with various clumps of trees and water steadily filling up the Delta – the water is late coming this year. We are careful to follow instructions – I think we are all aware there could be tawny eyes watching as we pass by clumps of bush and undergrowth, but the horses aren't perturbed at all. I can see the need for safari neutral-coloured clothes, otherwise we would stand out for miles. The care for the horses is second to none. We hop off and have some morning tea or smoko (apples and choc bars) – Komatsu enjoyed his apple – the horses' saddles are removed and a rub is given and then we walk with them for about 10 minutes to rest their backs. Chief and the other guides are very particular about checking all the gear.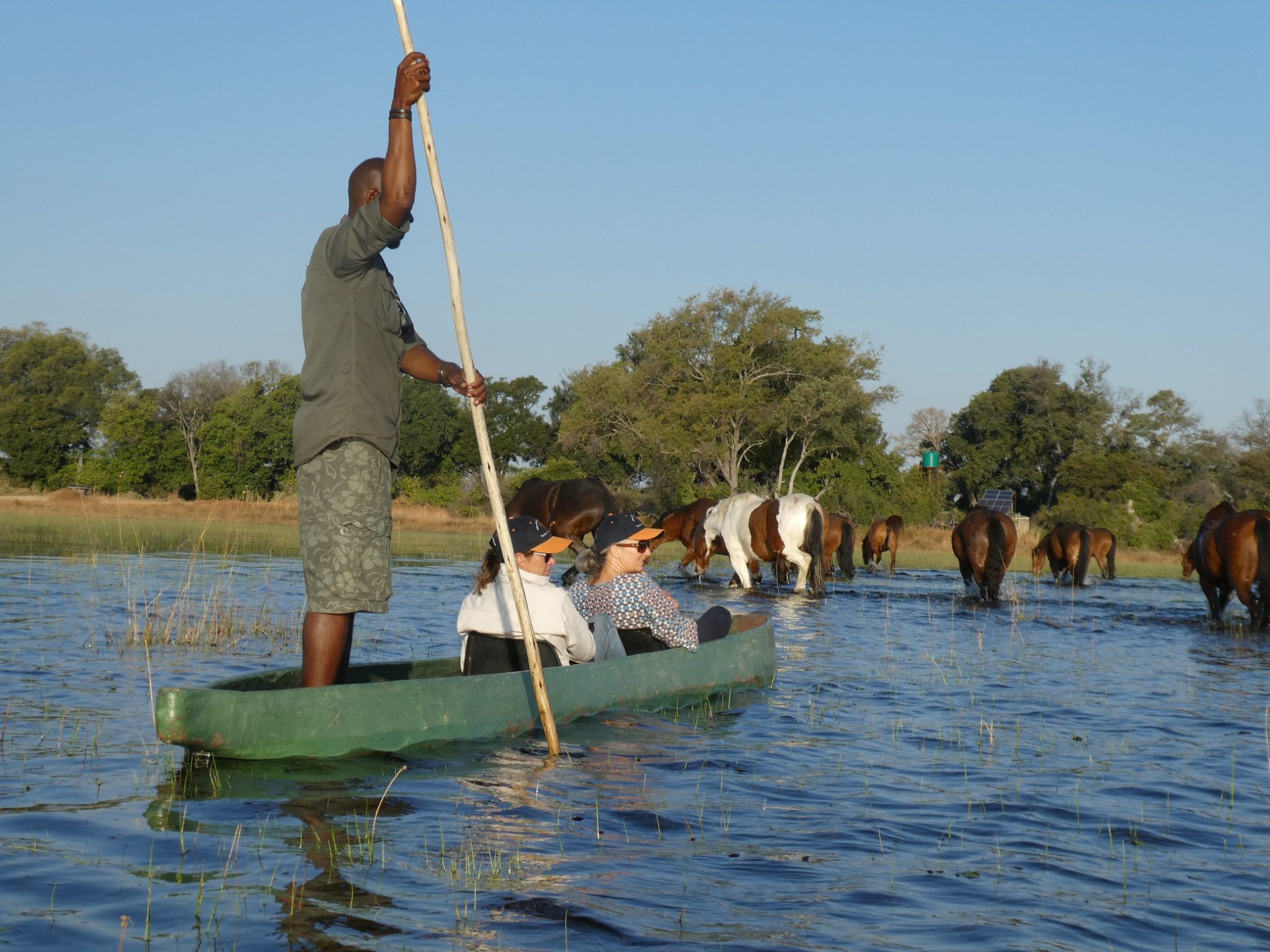 We get to gallop with the zebra and giraffe, but they don't let us get too close. Then back to camp for gin and tonics, a delicious spaghetti and salami bolognese with salad then an afternoon siesta before hopping into mokoro boats for a punt down the river, sighting one hippo in the distance. We keep well away from hippos – they look so cute but have a fierce reputation. Was great watching all the horses coming back into camp through the water accompanied by the staff in mokoros.
Monday – elephant in the night
Apart from hippos grunting in the night nearby, I had an elephant visitor around my tent – he was huge and I resisted the urge to turn on my torch or take a pic in case I scared him. It was enough to hear his stomach grumbling and then him doing a poo before eventually lumbering off. Of course, no-one else heard or saw him! Another early morning ride out sighting lots of elephant – some good photographs – and giraffe and zebra. More riders this time, who have returned yesterday from Mokolwane Camp, where they saw leopard and buffalo. Will we be that lucky, and do we want to be? Buffalo seem to be the most feared of the Big Five. It's so good to have no rubbish lying around, no houses, no people apart from the occasional safari 4WD – it is so vast and wild and feels unique with all the water and space. Lots of birds – hammerkop, francolin, hornbills, blacksmith plovers, rollers, saddlebilled storks, weavers, African fish eagles just to name a few.
We meet Percy, another guide, and drive out in the safari 4WD to celebrate Bec's 50th birthday with champagne in the evening. She scores a lovely birthday cake – not telling what's in that one but it has a very fibrous, unusual texture – we all laughed and a proper one appeared later.
Tuesday – Mokolwane
We ride the 30kms or so to Mokolwane Camp – I ride Mpulamanga – a grey Boerperd who is super comfortable. I drive everyone mad with my GoPro – voice activation is not a good idea when we have to be quiet with wildlife! Lots of animals and birds, and Katy cooks up lunch under the trees. It is amazing – so quiet and peaceful, and we snooze on stretcher beds. Once again the horses are given food and rested. We see storm lilies, zebra, kudu, lechwe, giraffe, elephant plus lion and hyena poo.
We get to camp at around 5pm having swum horses across the delta to the new camp, which is so well hidden. We all have our own safari-type accommodation on stilts overlooking the water, and we can see elephants wandering around. Buffalo have been seen in the area so nobody walks anywhere alone. The sunset is magic over the expanse of water.  More G&Ts and a delicious meal.
Wednesday – morning walk
Off in a large tinny over the water with Percy and Chief past various islands. We pull up by a bank for the game walk – we check out large palms with huge fruit or berries and later see an elephant shaking one for the fruit. We set off on foot passing termite nests, jackal trees, ebony, several kudu, impala, reed buck, lechwe, then a good encounter with zebras – one is very interested and investigates us as we hide behind some bushes. Percy even "calls" birds for us. Then he spots an elephant right near our boat – slight drama getting rid of him – eventually Percy cracks Rog's whip and the elephant departs reluctantly. The rest of us pick up lumpy sausage tree (Moporota) fruit for protection – really? – and walk around the water, into the boat, and quickly leave. One large male elephant crosses the water to another island – he is amazing to watch, so graceful in spite of his size.
After lunch and a much needed snooze we ride, viewing more elephants, and later on we relax.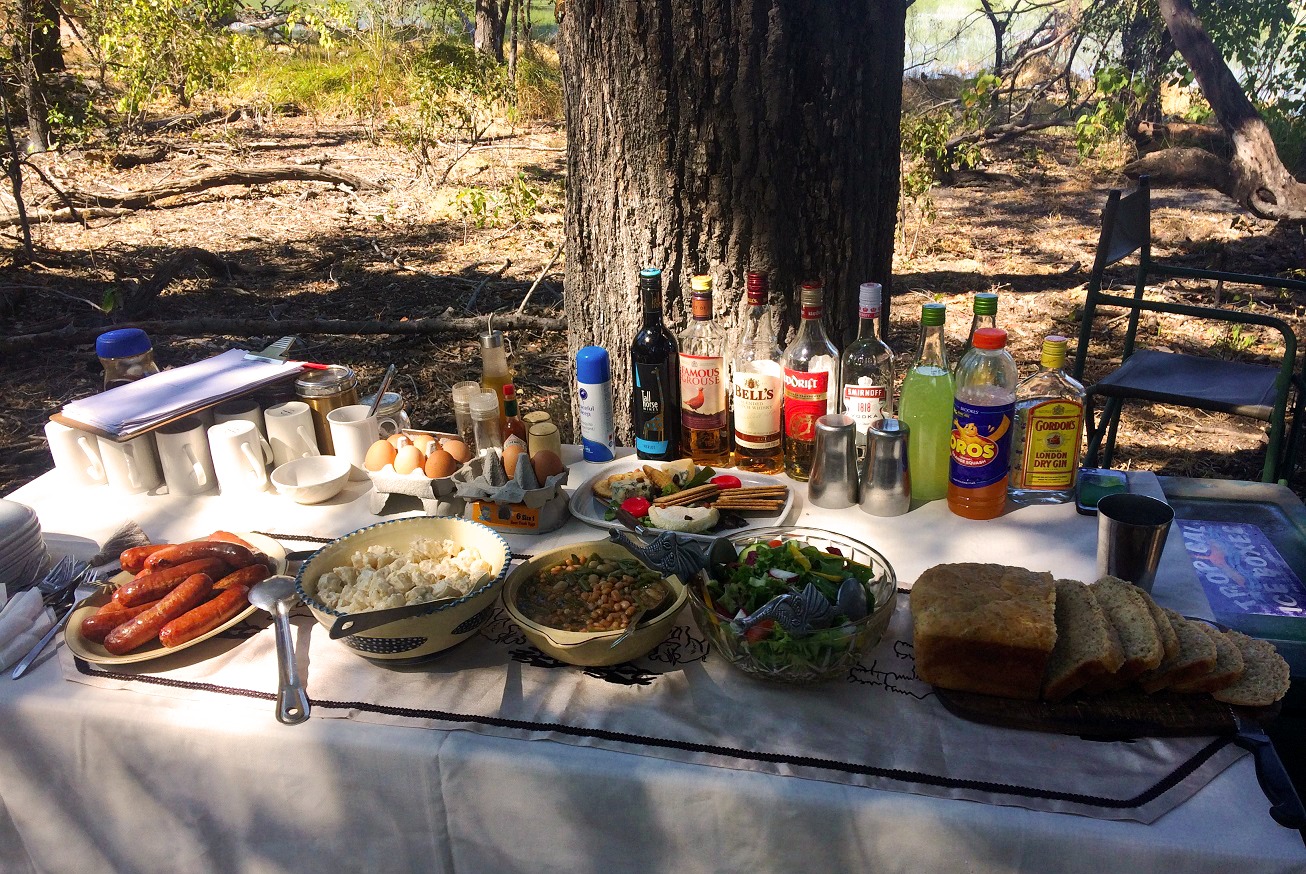 Thursday – back to Kujwana
We set off bareback across the water back to the mainland, then saddle up. We sight wildebeest, zebra, jackals, red roan antelope, kudu, baboons and monkeys, a breeding herd of elephants, impala, lechwe and reed buck. Lunch in the bush and we play patience – a new one – 4 cards at a time. A great ride back to Kujwana camp. I admire the tack room where the gear is kept immaculately.
Friday
Last ride for me – now on Denotsi (Wild Honey) and we see so much wildlife today. We come back to camp through the water, which means another bareback swim – such fun. After lunch we all go with PJ on his boat (he loves fishing) with liquid refreshments, arriving home just before dark – it's fascinating negotiating all the reeds and water and watching out for crocodiles and all manner of wild life. A great relaxing afternoon taking lots of photographs. That night we hear lion roaring!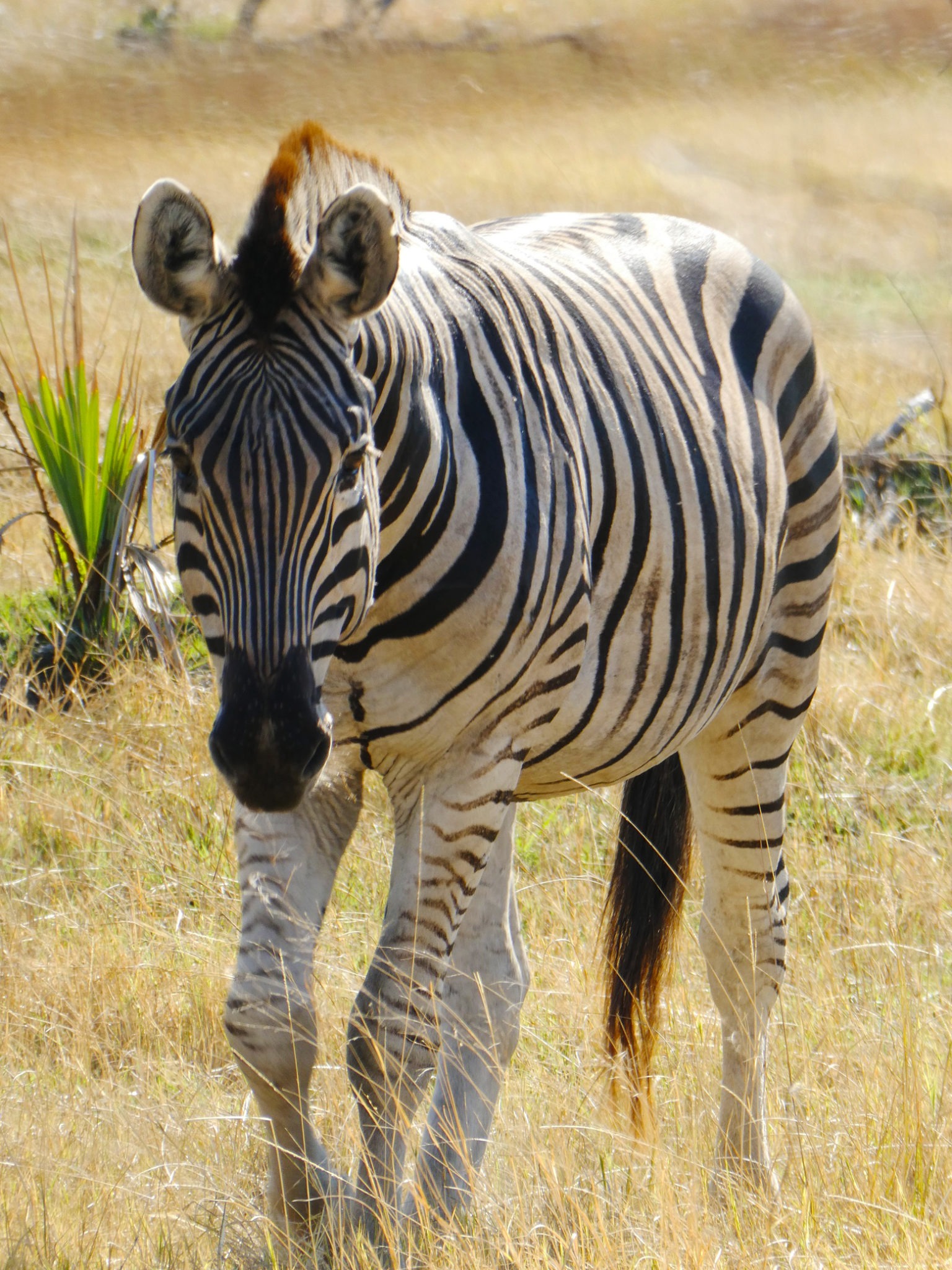 Saturday – back to Maun
Say a sad goodbye to the others after breakfast as they ride off and I depart camp, crossing the river by boat to go by truck back to Maun. We spot lion tracks in the sand and not far around the corner we come across a pride of six lions – wow! I'm so lucky to see them so close, and even better, I'm not on a horse!! I don't think I would have risked getting up so close to take pics if I was riding! Even though in a remote area, I have to say I never felt unsafe or worried – it was an amazing visual experience and we were well looked after.
Ready to run away to Botswana? Check out the Okavango Delta Ride here.
Facebook Comments